Odell Wind Farm Community Fund presents 13 awards spanning four counties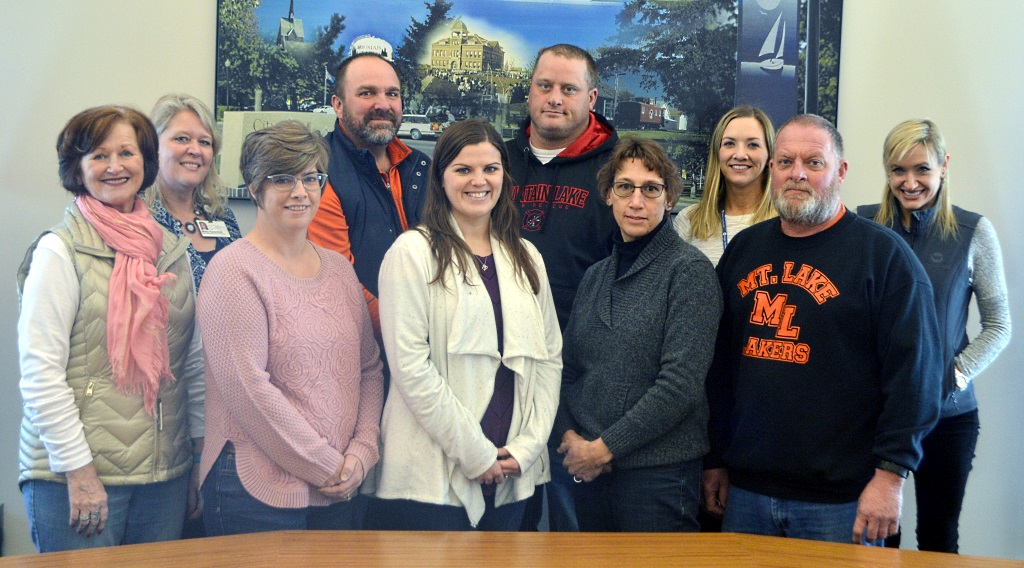 The Odell Wind Farm Community Fund has presented awards to its first round of grant recipients.
Twenty-six applications were received with requests totaling nearly $135,000. The Community Fund's board members decided to fund 13 grants across four counties with the $39,000 that was available.
The Odell Wind Farm, a 200-megawatt (MW) wind energy facility, pays approximately $40,000 per year into a Community Fund to benefit the small towns within its footprint.
The Odell Wind Farm Community Fund (an affiliate of the Southwest Minnesota Initiative Foundation) is one-of-a-kind; the money directly benefiting local projects and initiatives in the communities connected to the geographic scope of the Odell Wind Farm in the counties of Cottonwood, Jackson, Martin and a portion of Watonwan in Minnesota. It may be spent on anything from school projects, school or community playgrounds, community pools, ball fields, basketball courts, roads – or whatever the choice. The Community Fund is managed by a local board comprised of representatives of various townships and landowners. Mountain Lake area representatives on hand at the grant-awarding ceremony were Misty Karschnik, Bruce Swanson and Sharron Hanson. Other board members include Jean Burkhardt, Jon Adrian and Wayne Klassen.
+ 2017 Recipients:
City of Mountain Lake Streets/Parks Department for necessary upgrades on the Mountain Lake City Park Band Shell. ($5,000)
Mountain Lake Elementary Student Council for Chromebooks so that more students have access to newer technology. ($2,000)
Martin County 4-H towards their performing arts lessons and skills development. ($500).
Cottonwood County 4-H for a LEGO Robotics and LEGO Build engineering design program. ($1,000)
Mountain Lake Area Chamber of Commerce for downtown Christmas lights and decorations. ($5,000)
Mountain Lake Soccer for a community storage shed which will serve various organizations. ($3,000)
Jackson County Library System for STEAM (Science, Technology, Engineering, Art and Math) products. ($1,000)
Mountain Lake Fire Department for replacing turn-out gear. ($4,500)
Darfur Fire Department to update SCBA tanks. ($4,500)
Mountain Lake Area Chamber of Commerce for "Christmas at the Village" community Christmas celebration. ($5,000)
Mountain Lake Ambulance Service for the purchase of hand radios. ($4,500)
Windom Area Hospital towards outdoor gym equipment along their new walking path. ($2,500)
Mountain Lake Ag/FFA Chromebooks for technology integration. ($5,000)
The Odell Wind Farm Community Fund learned during this inaugural year of grant review that projects favored include where there is significant support from the community – whether that be financial resources, extensive use of volunteers or impact on many community members.
The next round of grants will be in January 2018, with the deadline of Monday, January 15 for applications.
+ Grant Application Requirements:
Grant requests should generally be under $5,000 although larger requests will be considered.
Grant applications are available on: facebook.com/odell-wind-farm-community-fund, or by emailing odellwindfarm@gmail.com. Questions can also be directed to this email address.
Grants are approved at two different times during the year with deadlines for submitting completed proposals of January 15 and July 15 with notification of successful applications being made within 60 days.
Proposals must be submitted by a 501(c)(3) organization, a unit of government or by a public agency. Organizations that are not tax exempt must apply through a suitable fiscal agent willing to accept responsibility for the project, such as a unit of government or a school district.
Criteria include preference for armprojects that are submitted by local applicants with a focus on community and youth development, proposals that avoid duplication of efforts, have clearly stated goals and measurable outcomes, and evidence of appropriate partnerships and community support.
To learn more about Odell Wind Farm itself, go to: https://www.cross-countiesconnect.com/2016/03/where-the-wind-blows/.