MLHS Drama Department lifts the veil on a 'Little Shop of Horrors'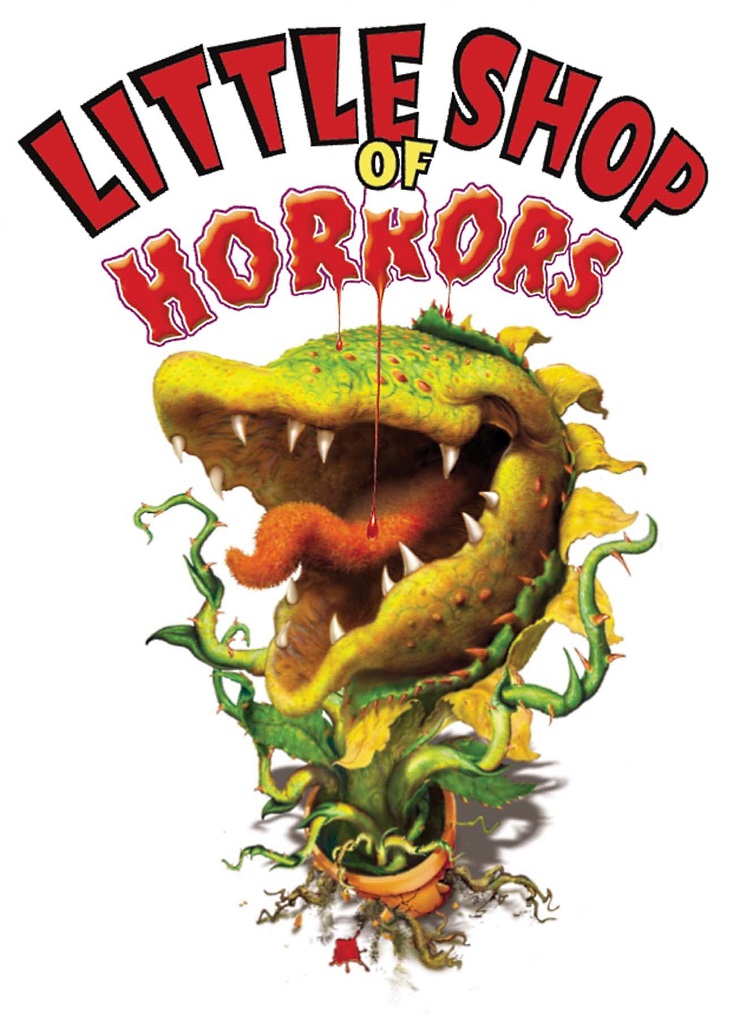 It was all deviously delicious – this sci-fi smash about a man-eating plant.
The Mountain Lake Public High School (MLHS) Drama Department lifts the veil on a Little Shop of Horrors – providing audiences the opportunity to visit with the unique Venus flytrap, Audrey II – if they dared!
Performances were held in the school's auditorium on Saturday, November 11, including an afternoon matinee and an evening show.
Little Shop of Horrors is a 1982 horror/comedy/rock musical by composer Alan Menken and writer Howard Ashman. The musical is based on the low-budget 1960 black comedy film, The Little Shop of Horrors.
The music by Menken is in the style of early 1960s rock-and-roll, doo-wop and early Motown and includes the title song, "Skid Row (Downtown)," "Somewhere That's Green" and "Suddenly, Seymour."
The Doo-Wop Girls (Amy Bartsch, Jae Faber, Kyla Perkins, and Kayla Vonk) lead audiences through this story about nerdy and meek floral assistant Seymour Krelborn (David Hall), who pines for his co-worker, Audrey (Chloe Klassen). They both work in a down-and-out flower shop on Skid Row owned by Mr. Mushnik (Paton Buller). During a total eclipse, Seymour finds an unusual plant he decides to call Audrey II (the voice of Audrey II is played by Joey Baldone) But . . . the rock-and-blues-singing carnivore promises unending fame and fortune to Seymour – as long as he keeps feeding it blood. The plant attracts a lot of business for the Flower Shop. After the accidental death of Audrey's boyfriend, Orin Scrivello, D. D. S. (Regan Syverson), Seymour feeds him to the plant (plant puppeteers are Taylor Hudson, Seth Klassen, Michael Watkins and Maleek Stewart) and must continue to come up with similar meals for this bloodthirsty plant. Over time, though, Seymour discovers Audrey II's out of this world origins and intent towards global domination
The lesson from the production to be learned is in the plant itself. That lesson: Don't give in to that tempting evil – it will only grow and grow. Don't feed the plants!
Remaining cast members included:
Radio Interviewer – Taylor Hudson.
Mr. Berstein – Brody Kleven.
Mrs. Luce – Olivia Klassen.
Skip Snip – Eli Karschnik.
Mr. Patrick Martin – Isaac Grev.
Customers – Ethan Klassen and Anika Fast.
Chorus of Skid Row Occupants – Laura Dalton, Peyton Banks, Cole Kleven, Joey Baldone, Taylor Hudson, Brody Kleven, Olivia Klassen, Eli Karschnik, Isaac Grev, Ethan Klassen and Anika Fast.
Crew members are:
Braden Rempel, Jareya Harder, Michael Watkins, Daniel Gardiner, Seth Klassen, Maleek Stewart and Ryan Pedersen.
Co-Directors for the production are Sarah Tailowright and Kelli Tucholke.
Costumer Designer is Jennifer Shouse-Klassen and Set Design/Construction is by Justin Klassen.
Following is a photo gallery from the a dress rehearsal of the production: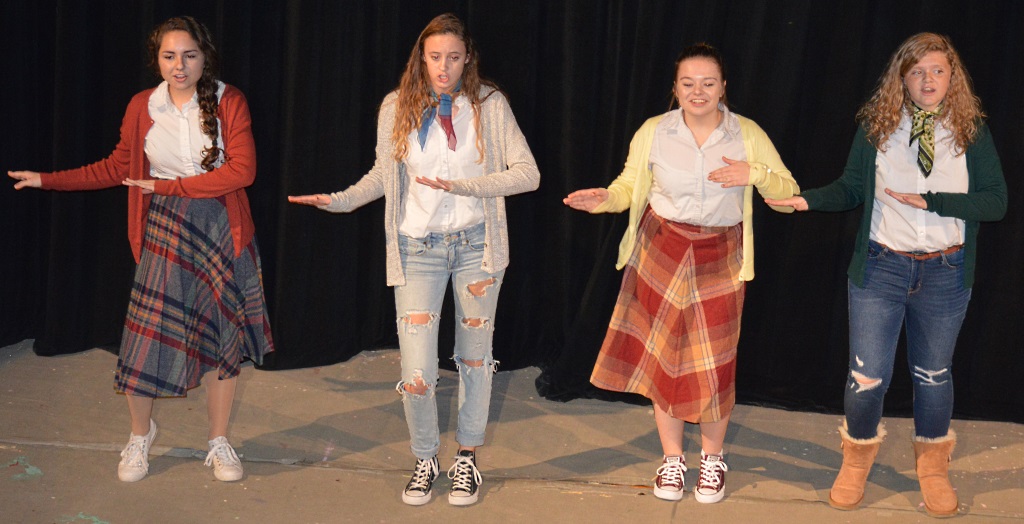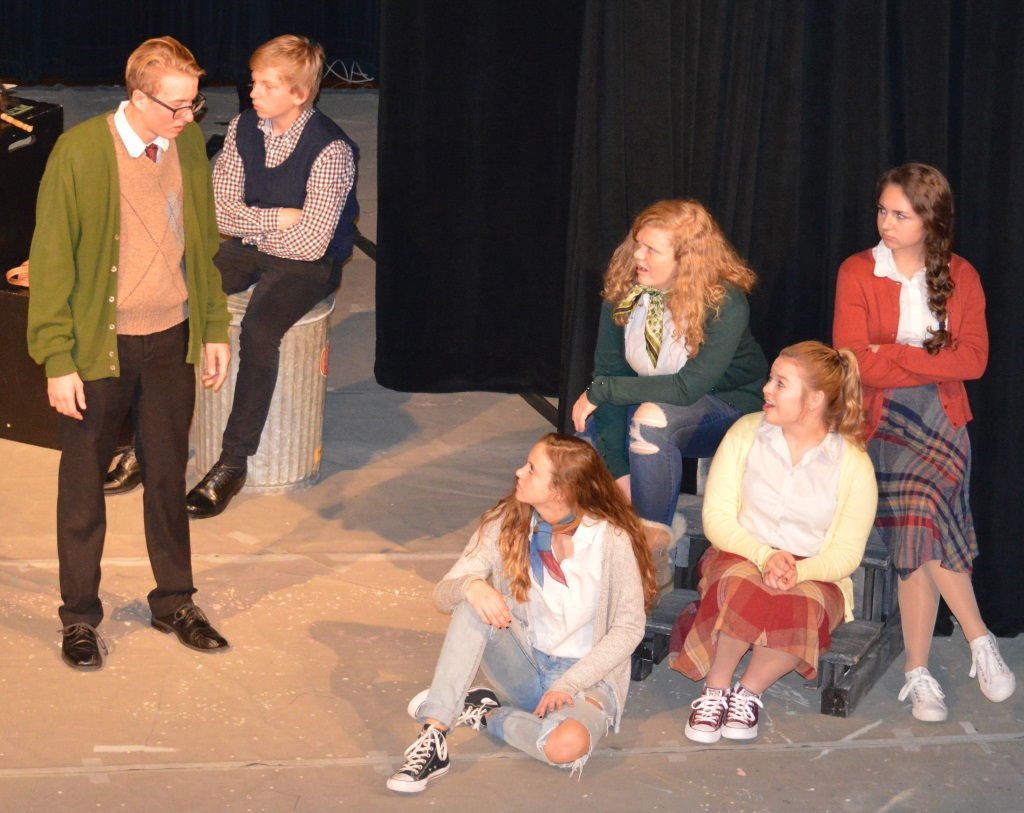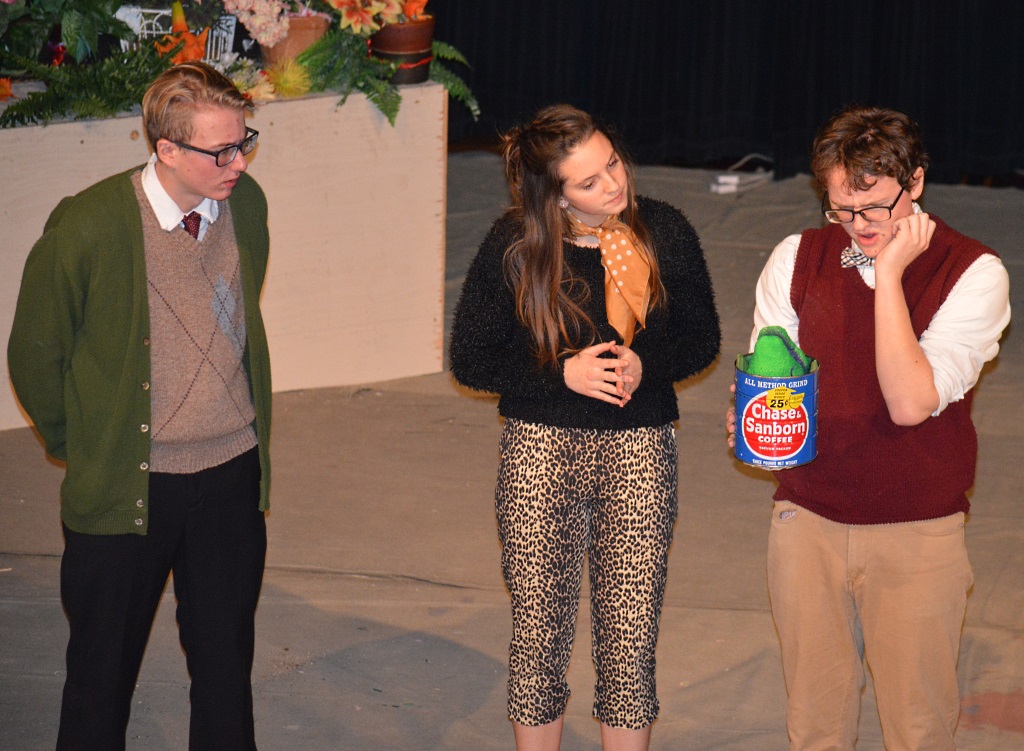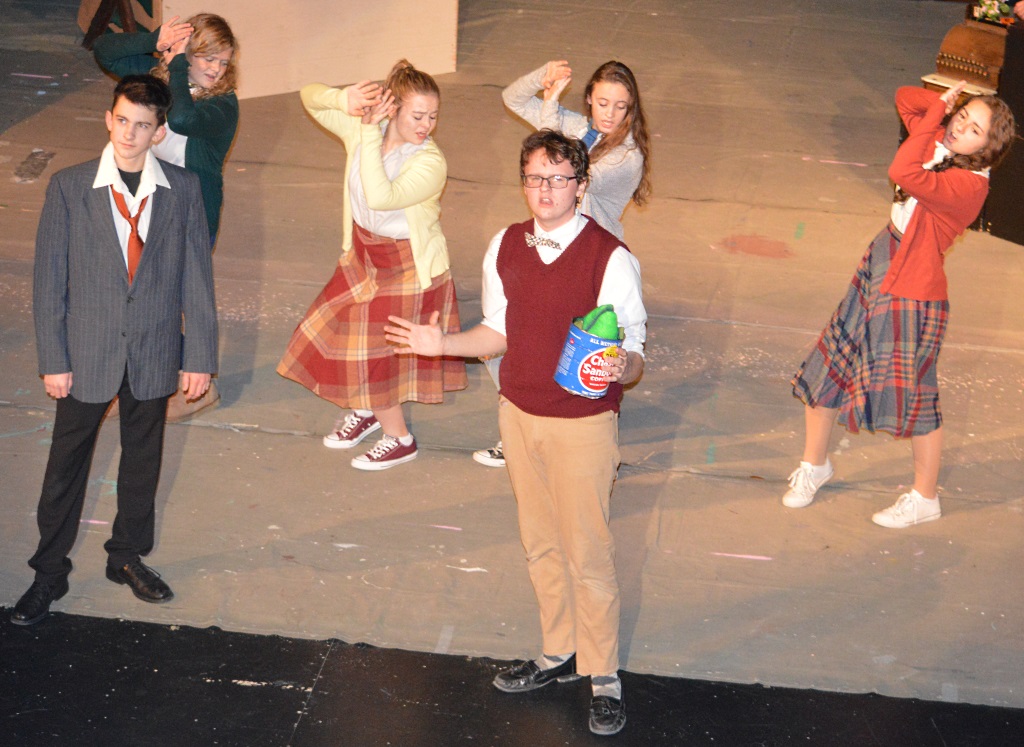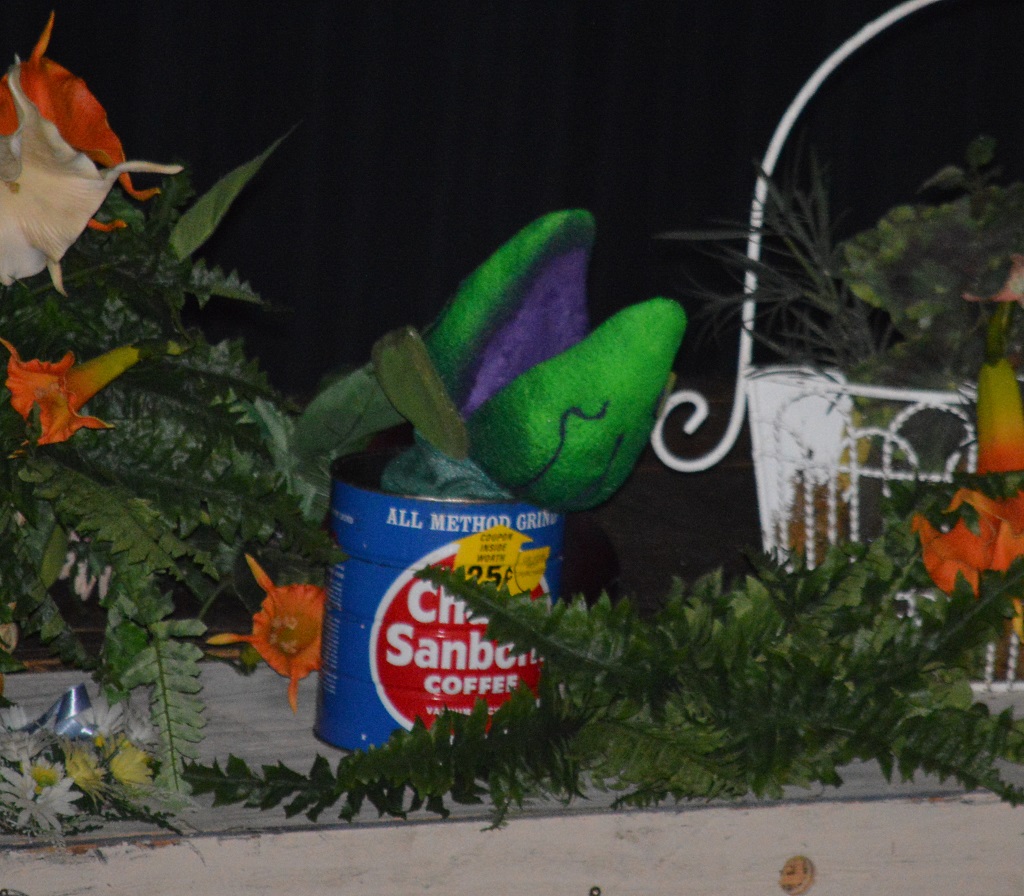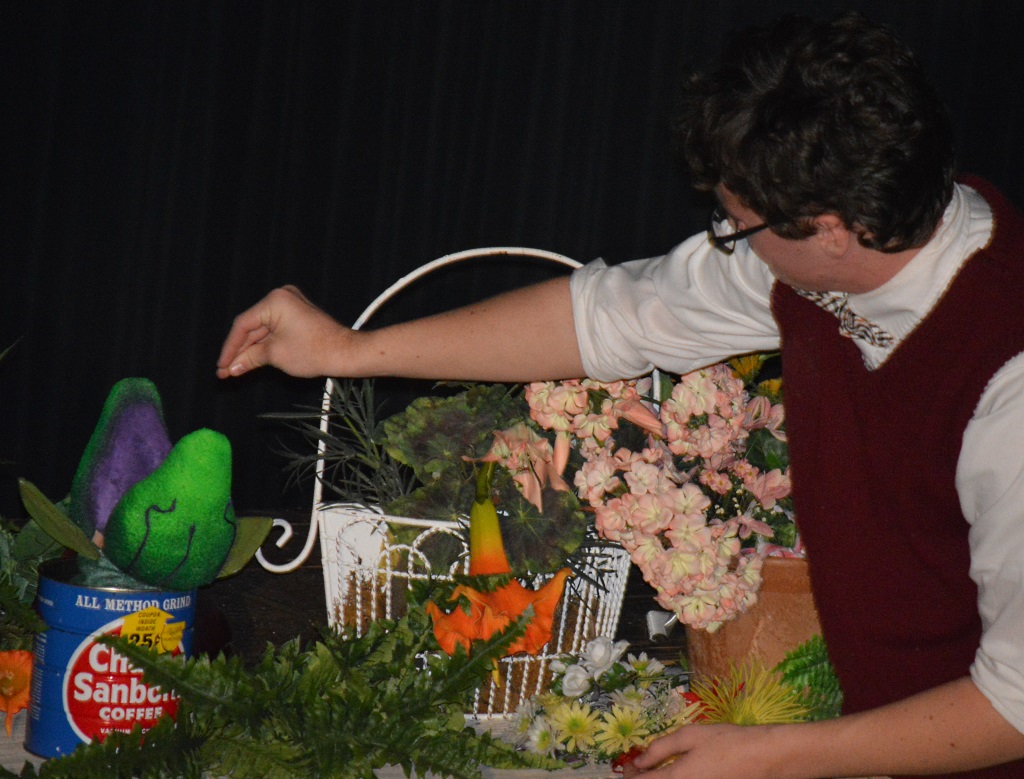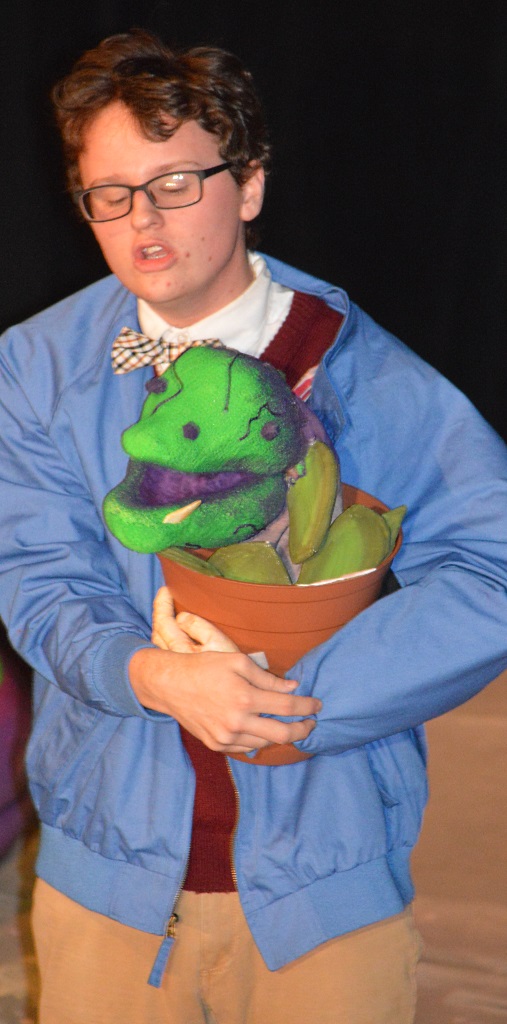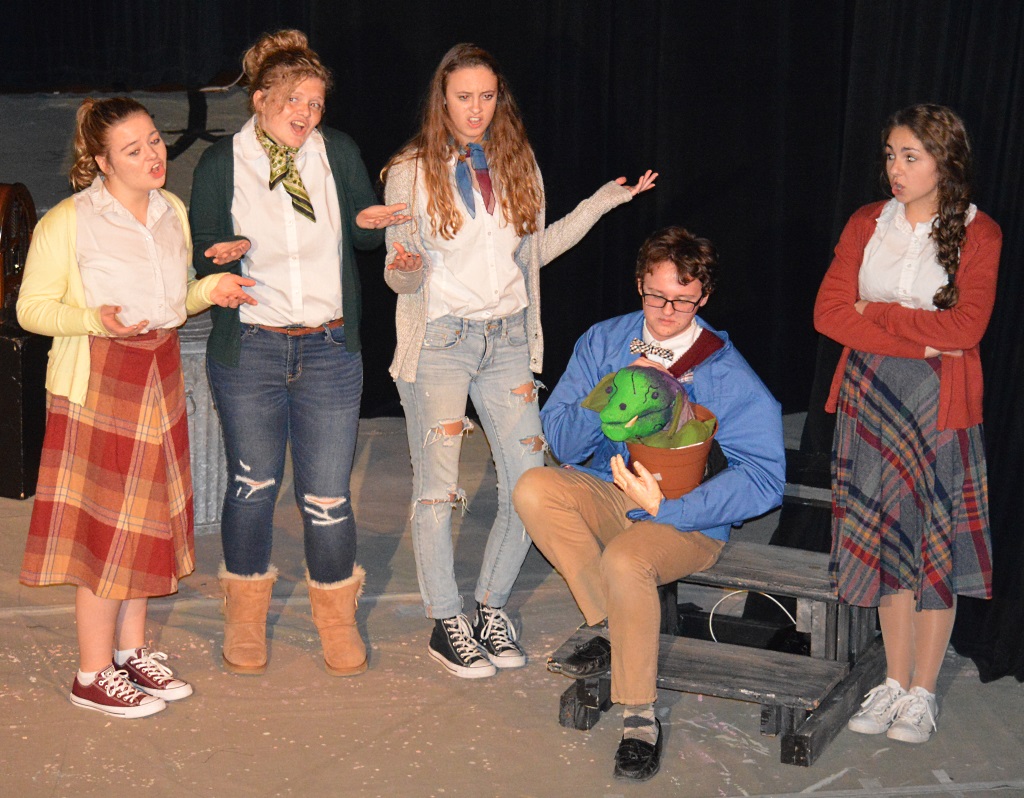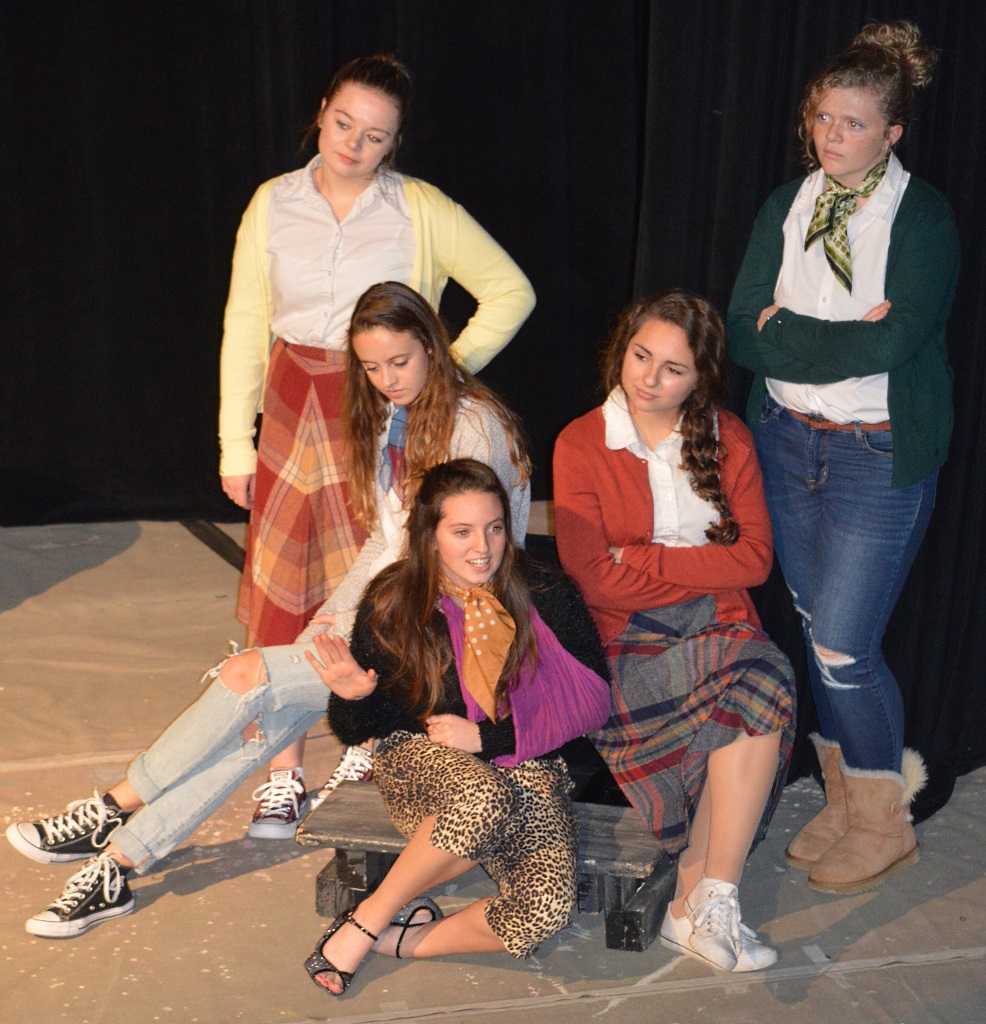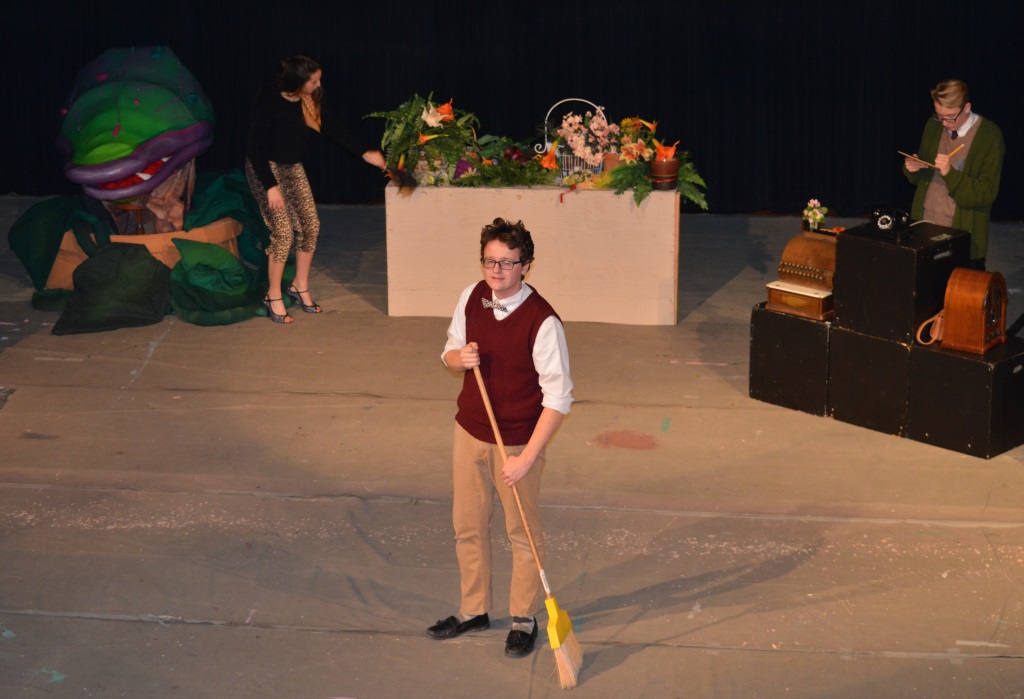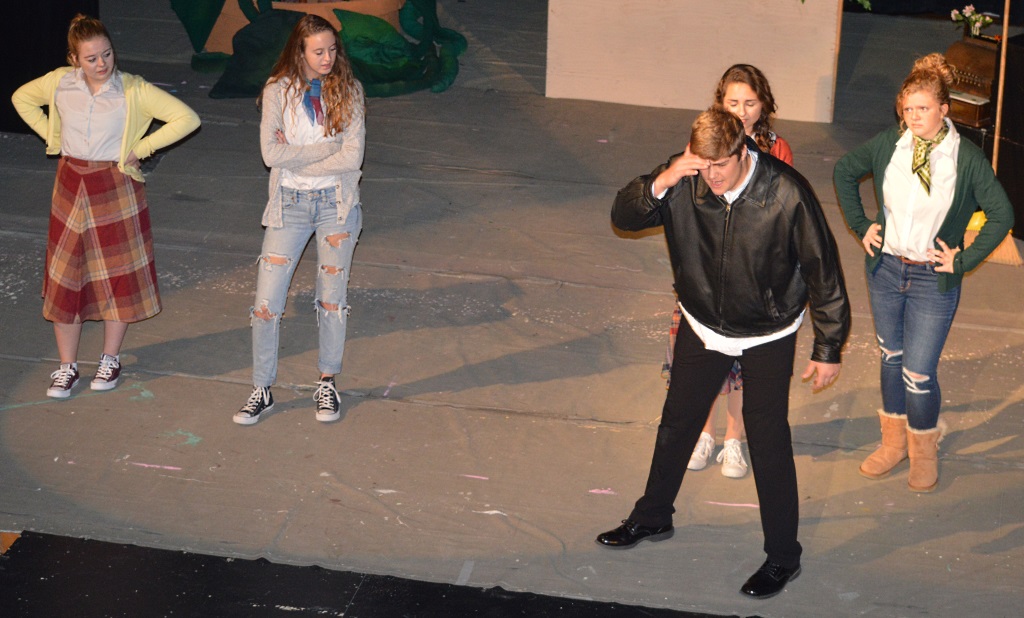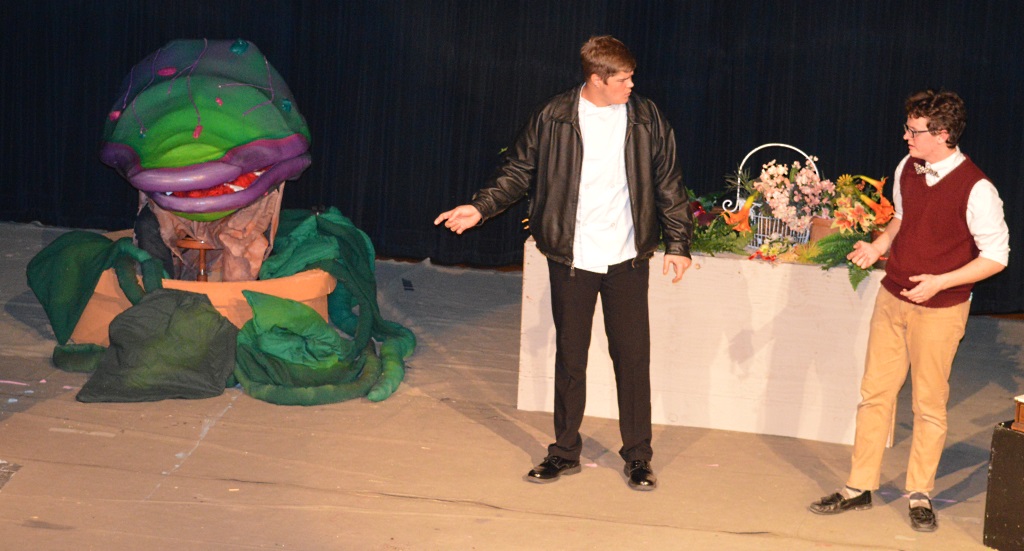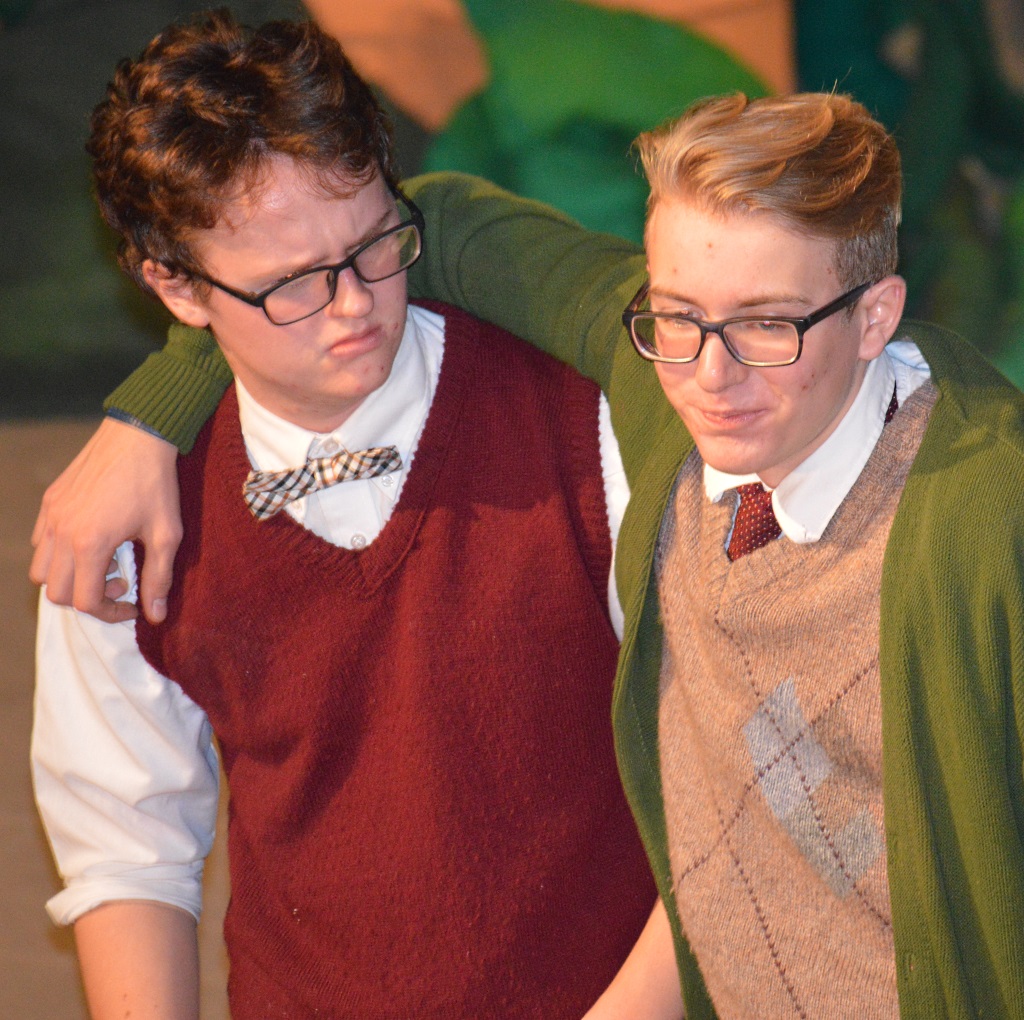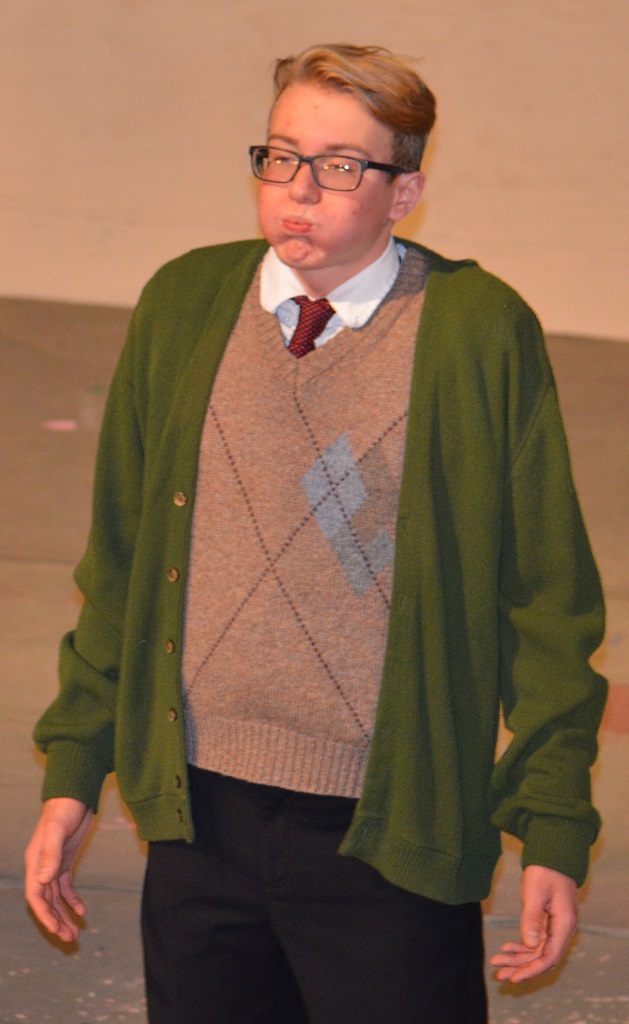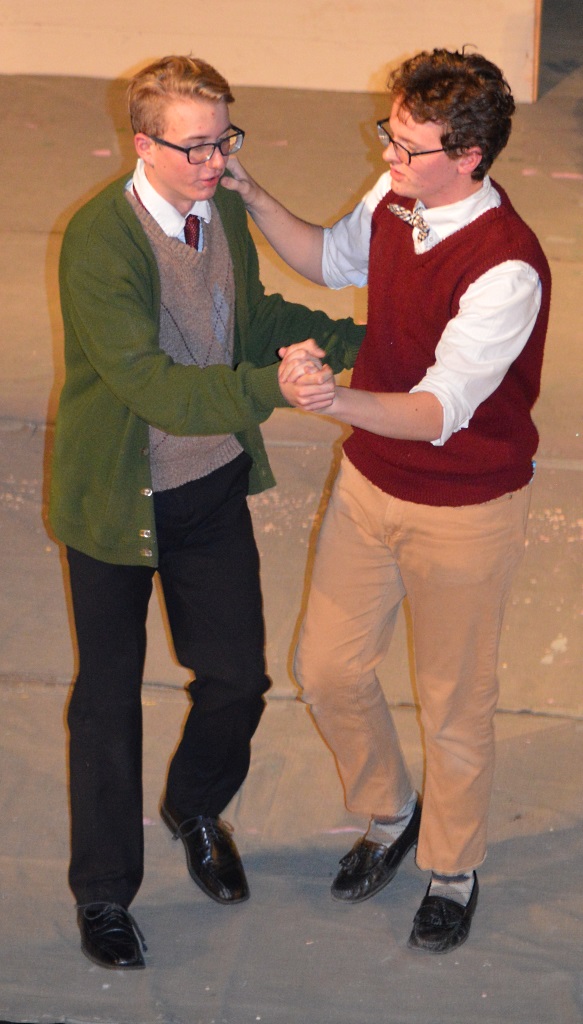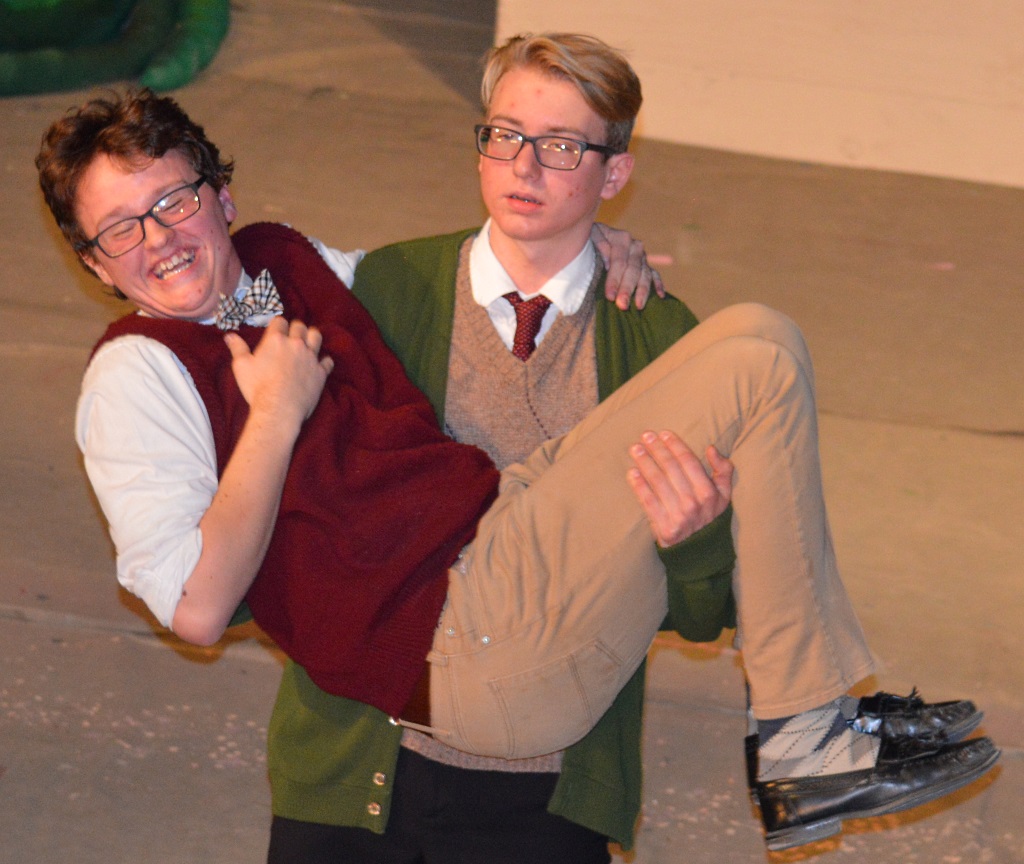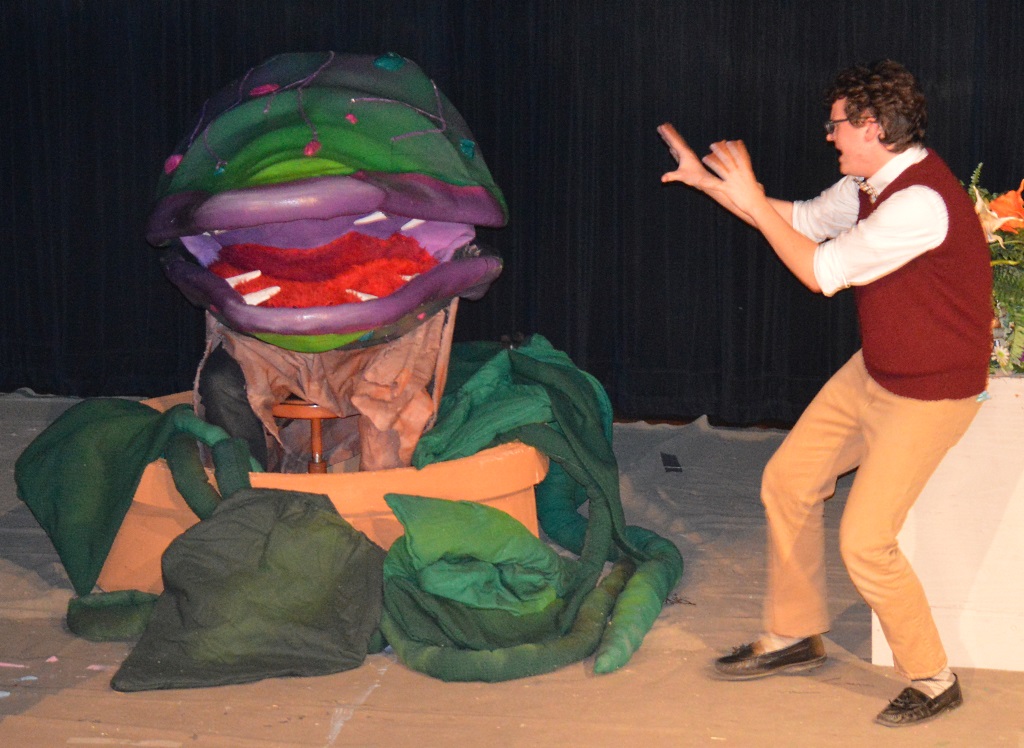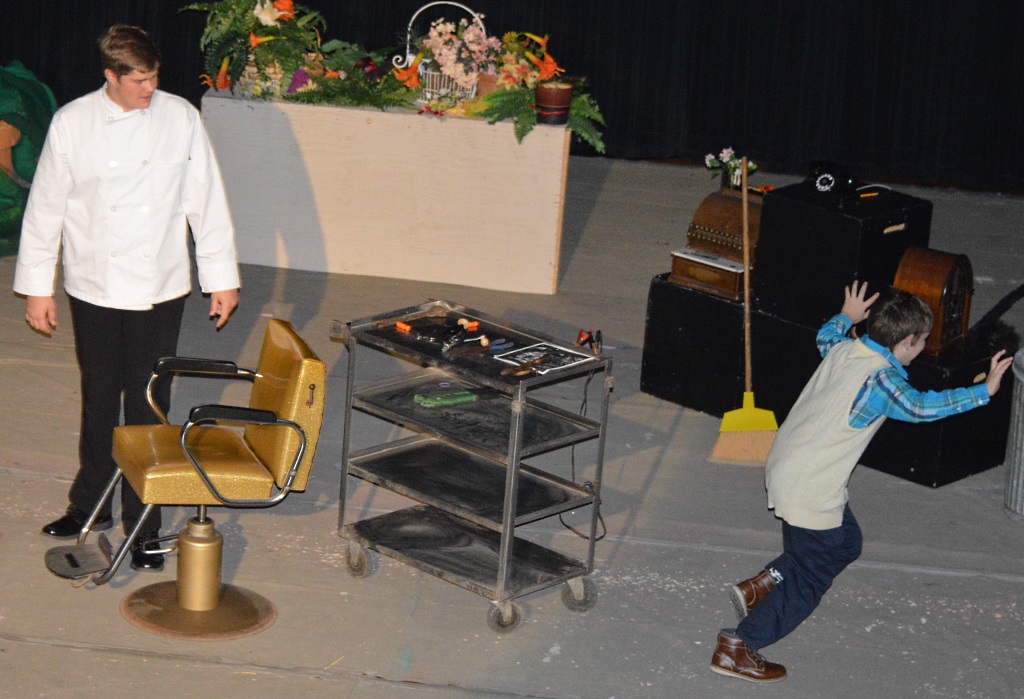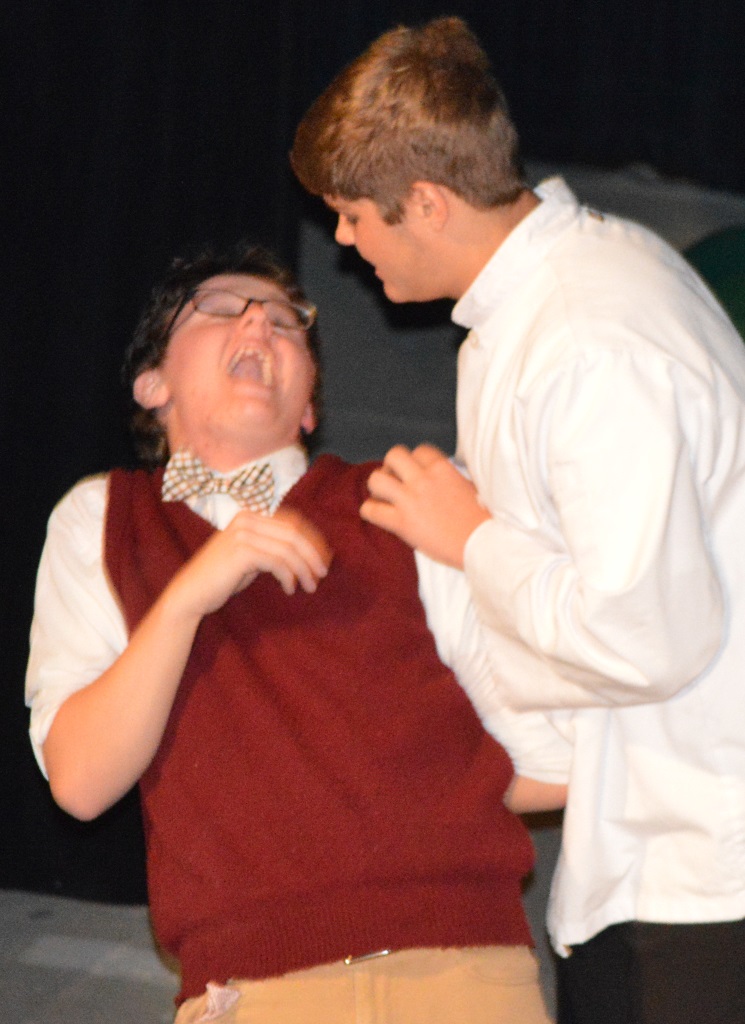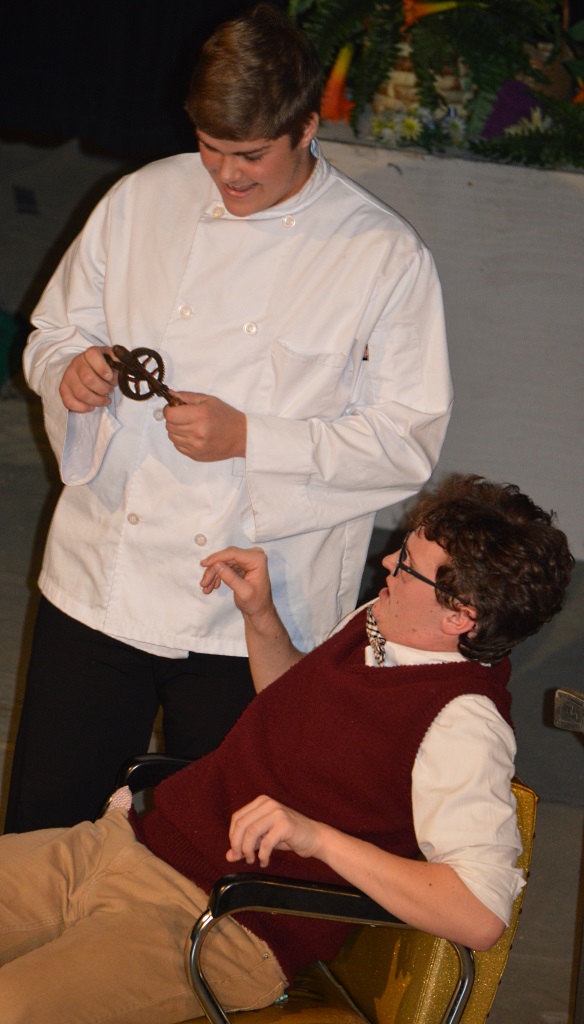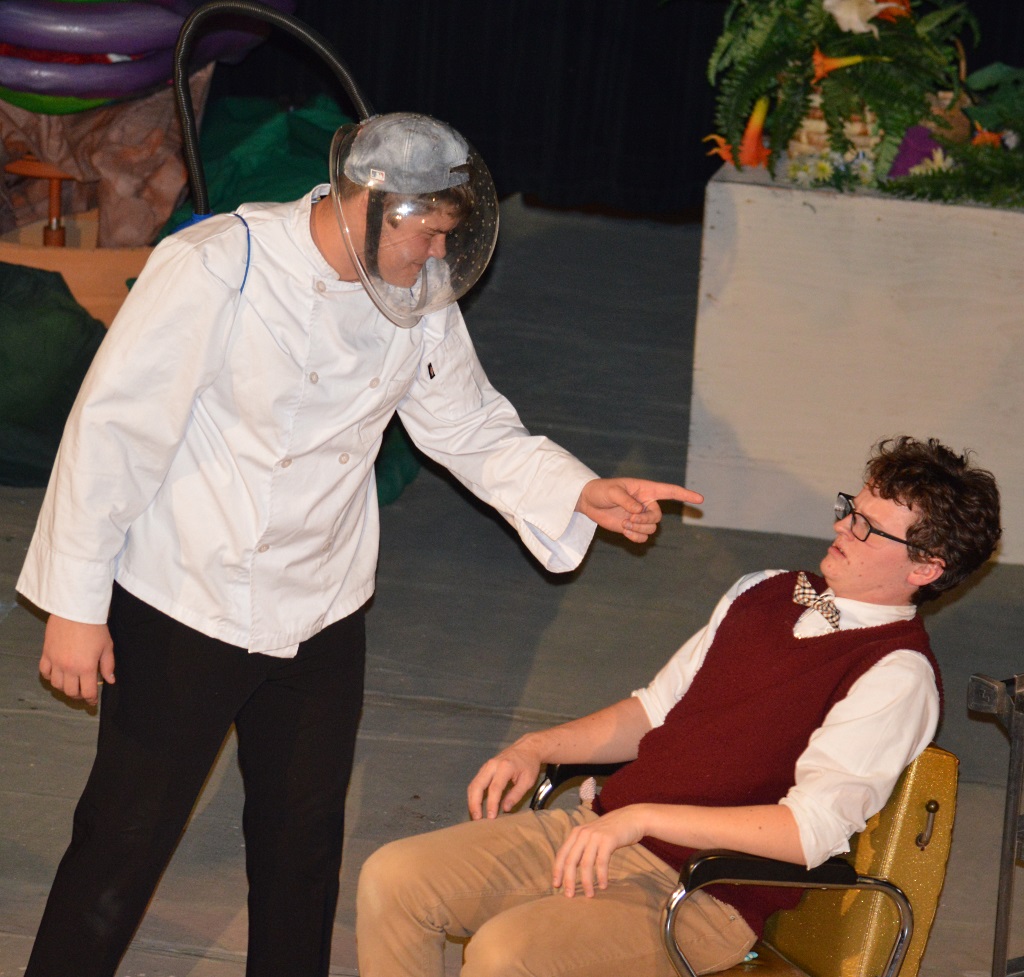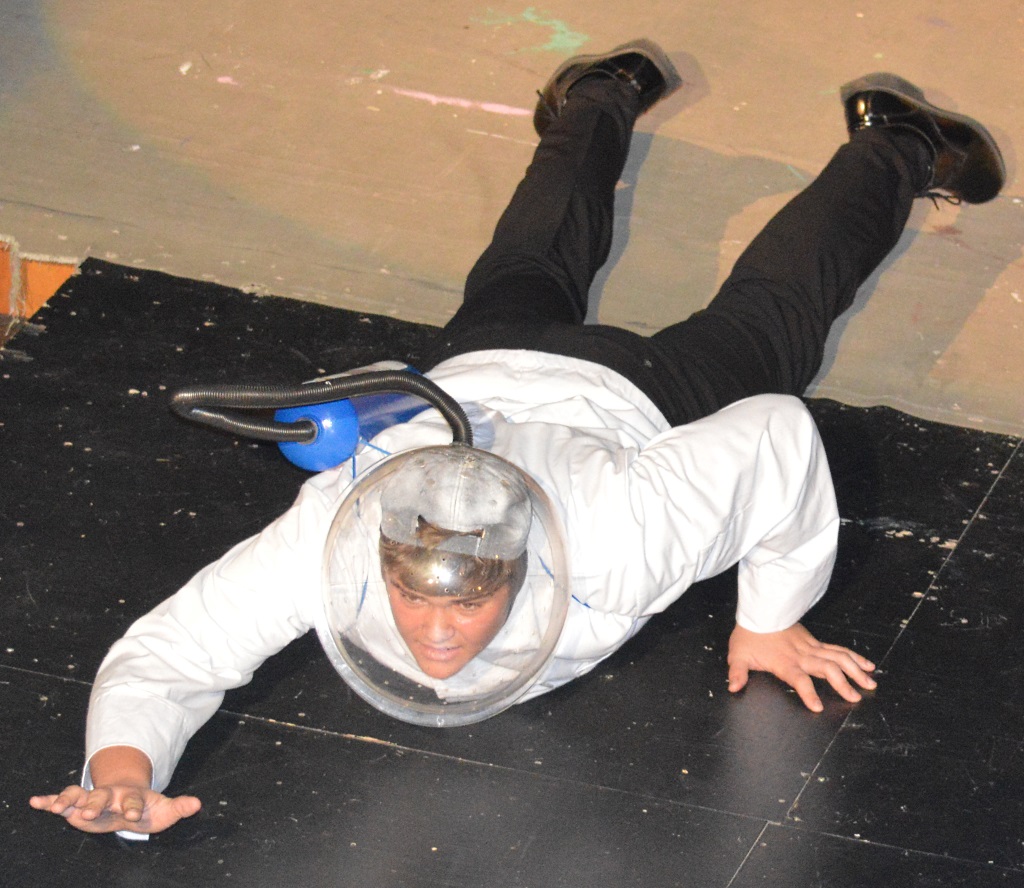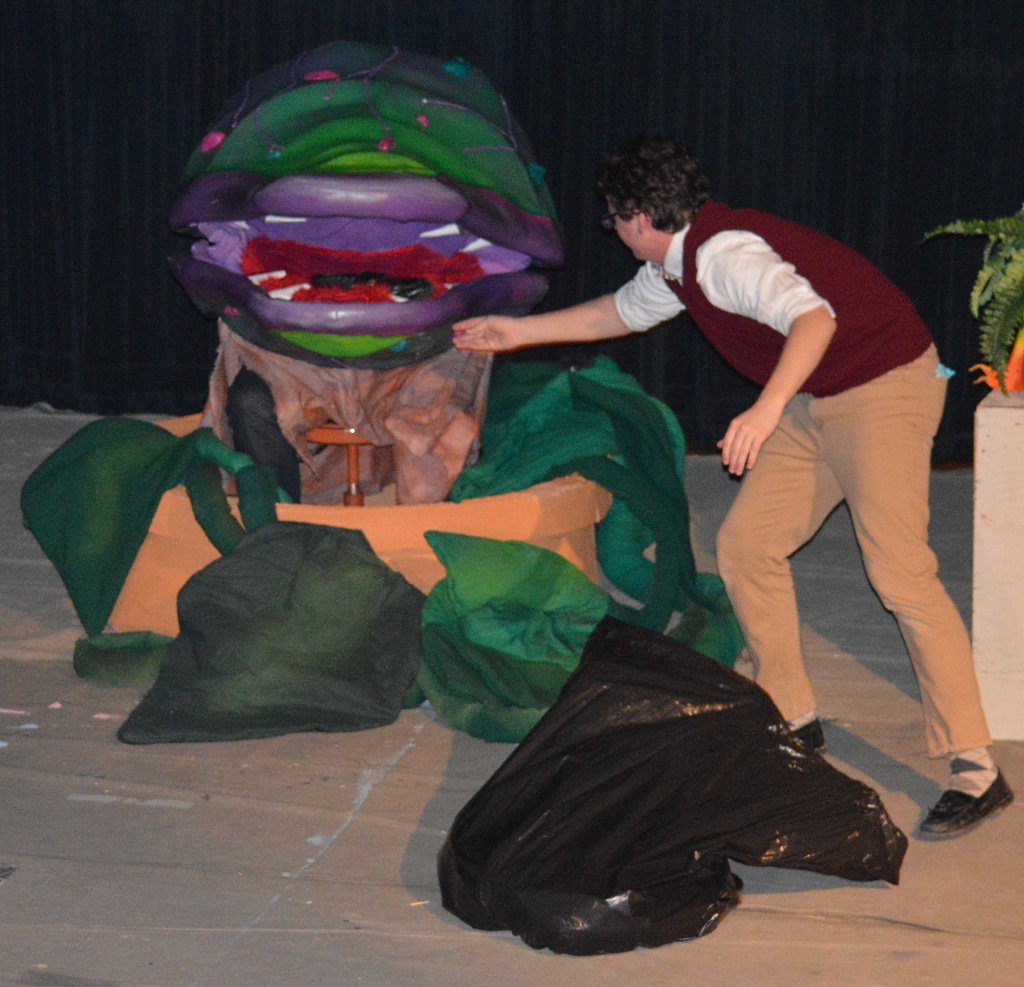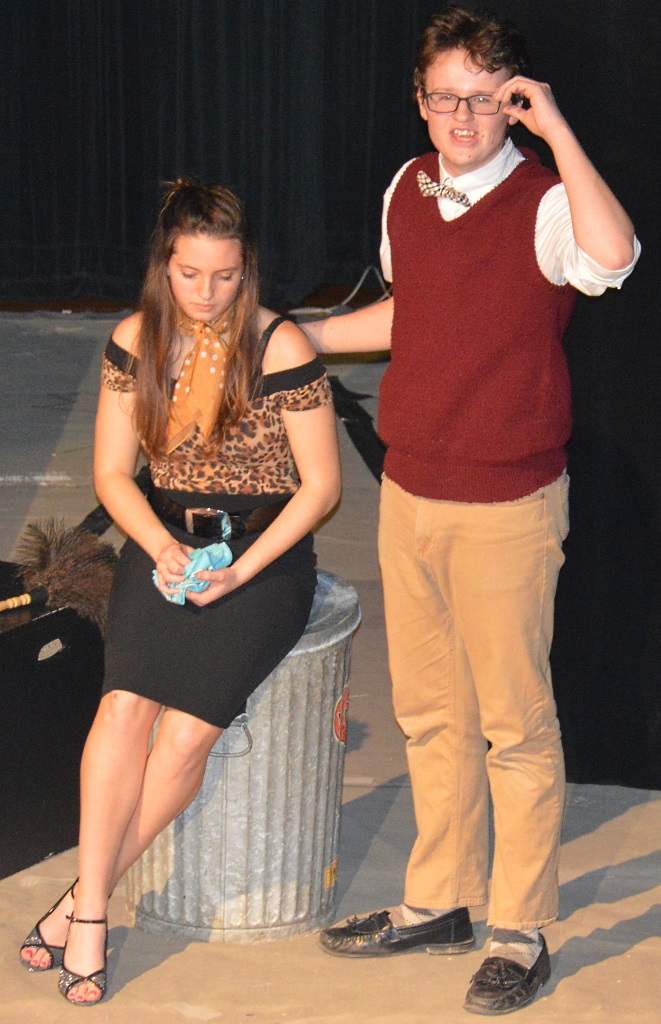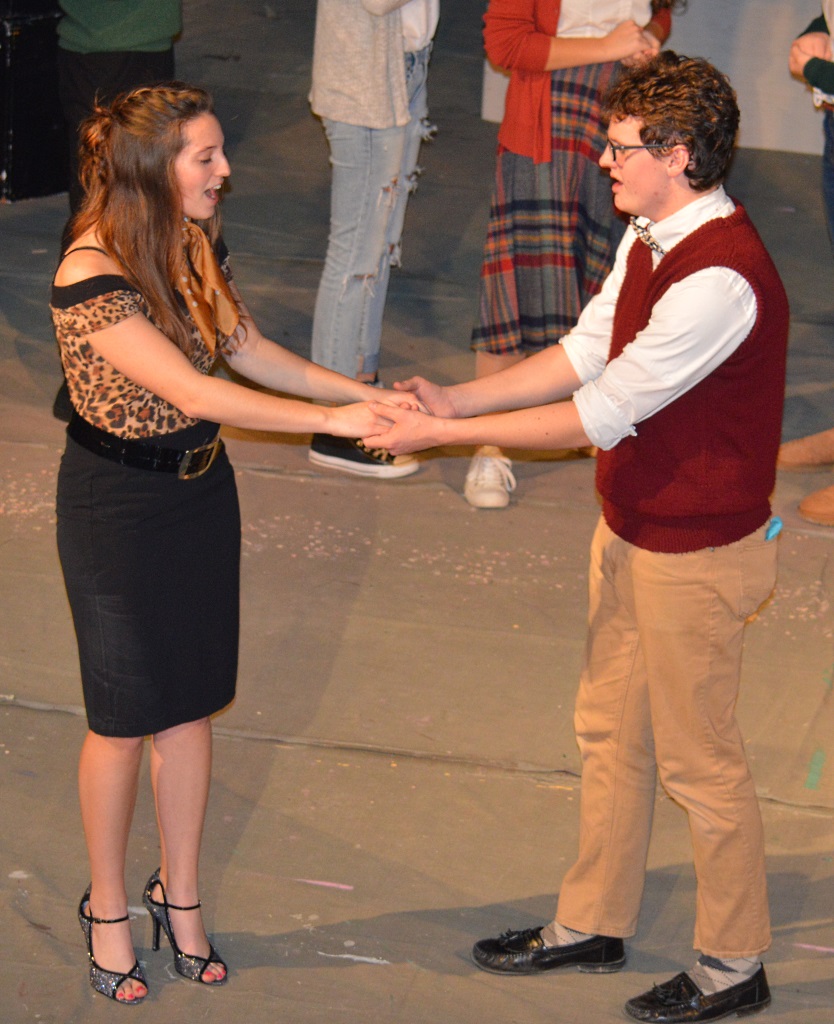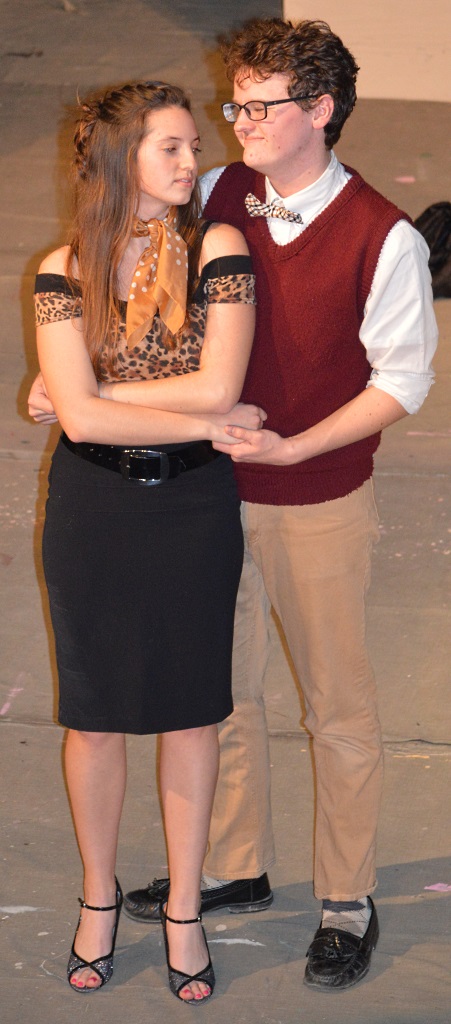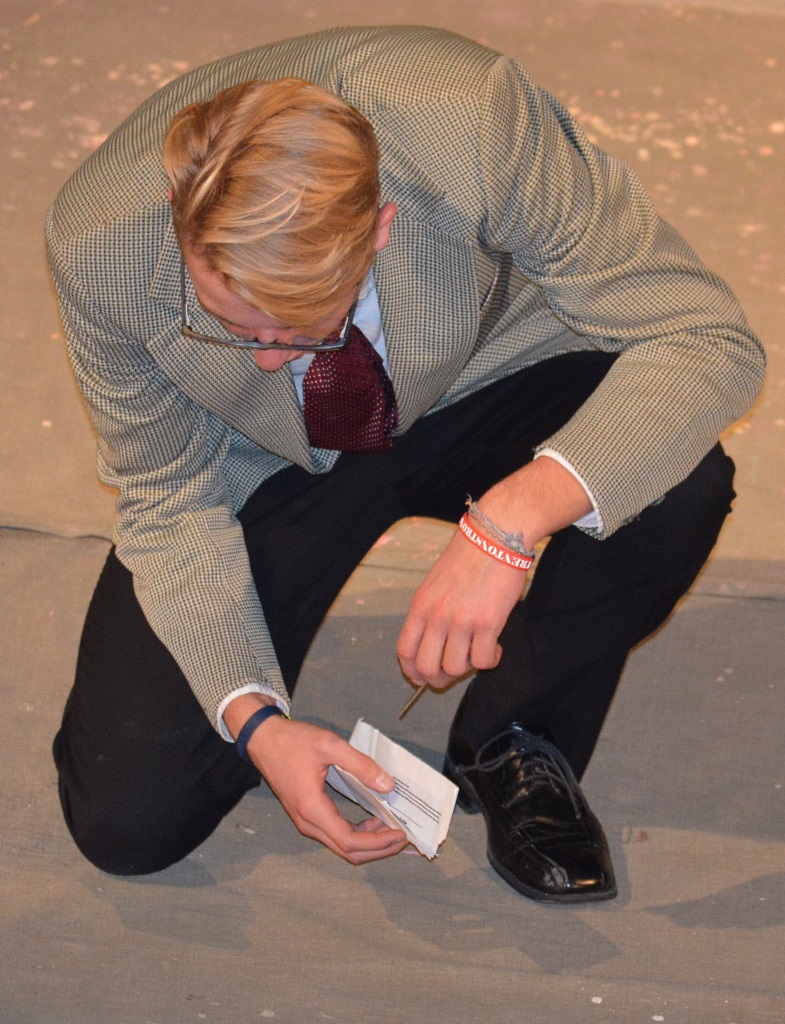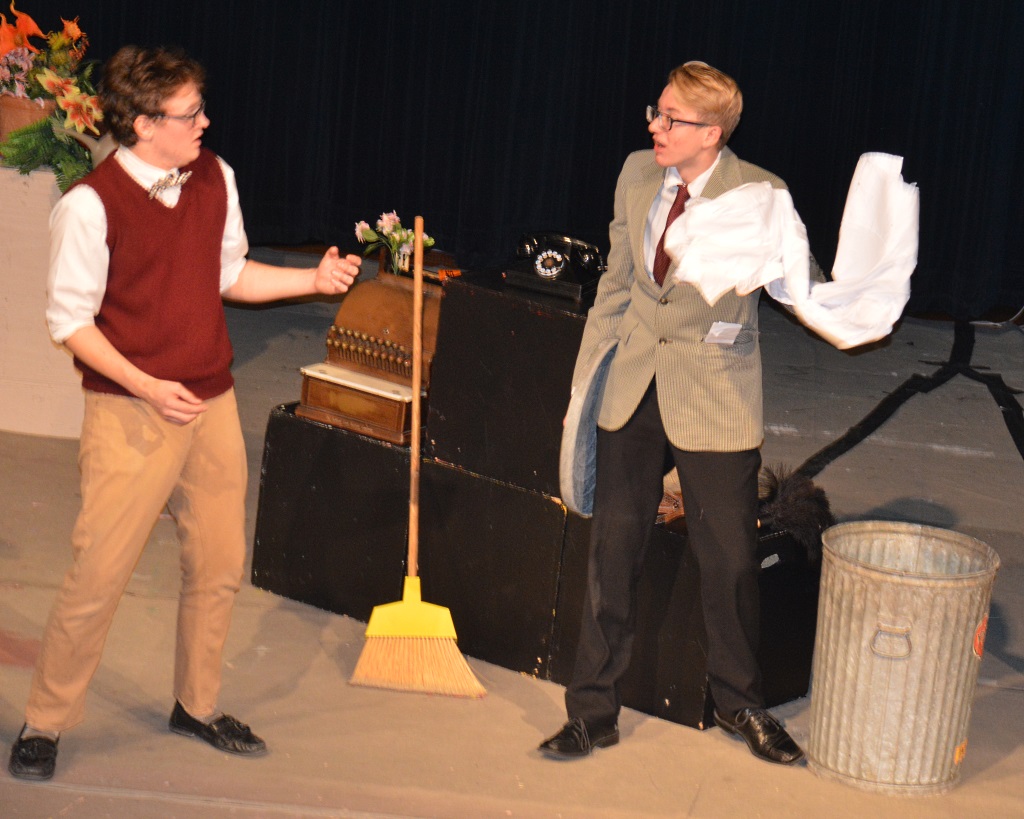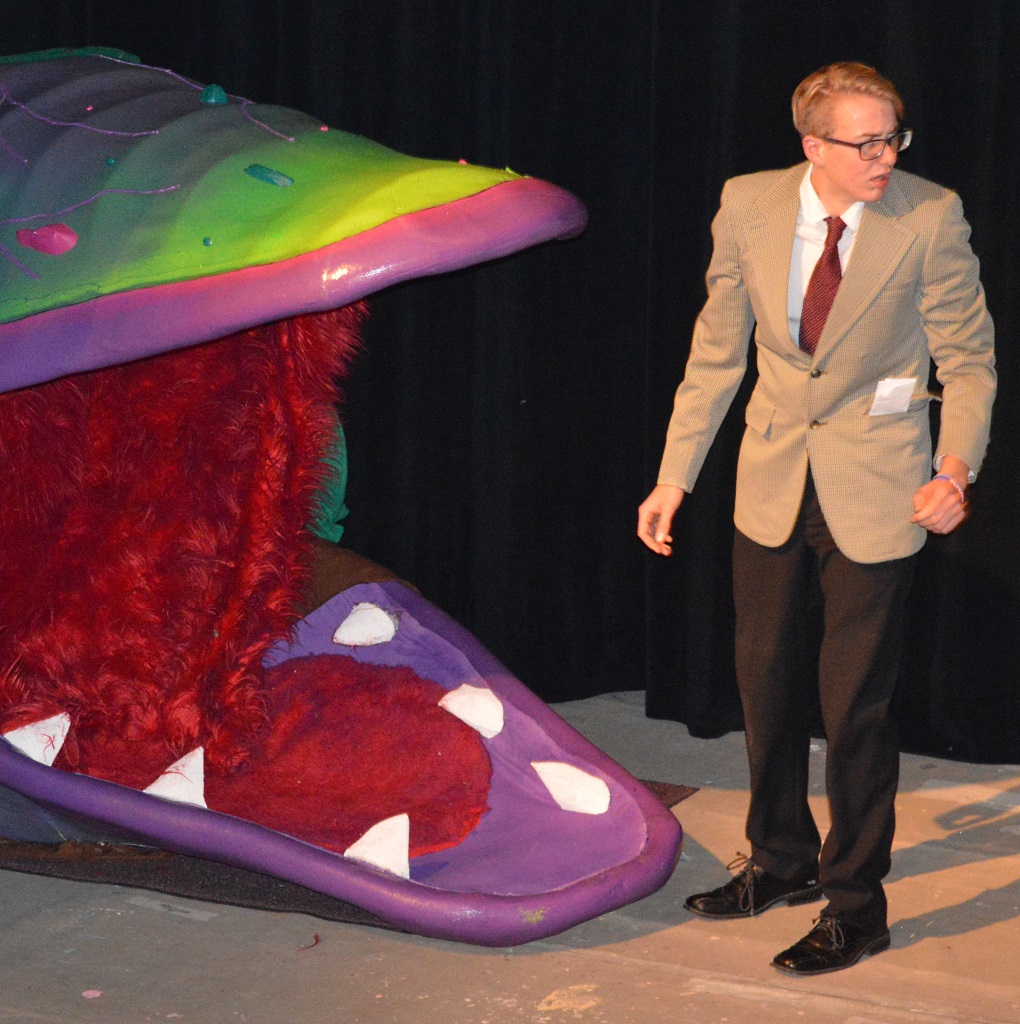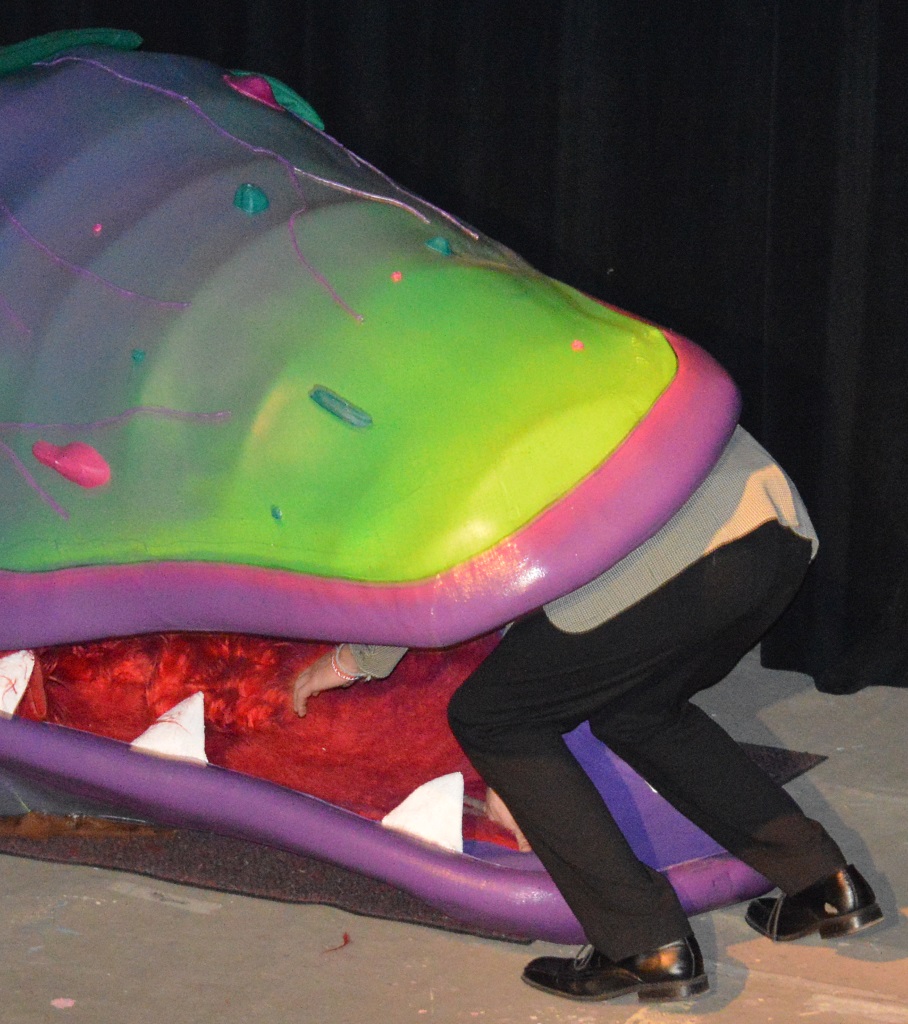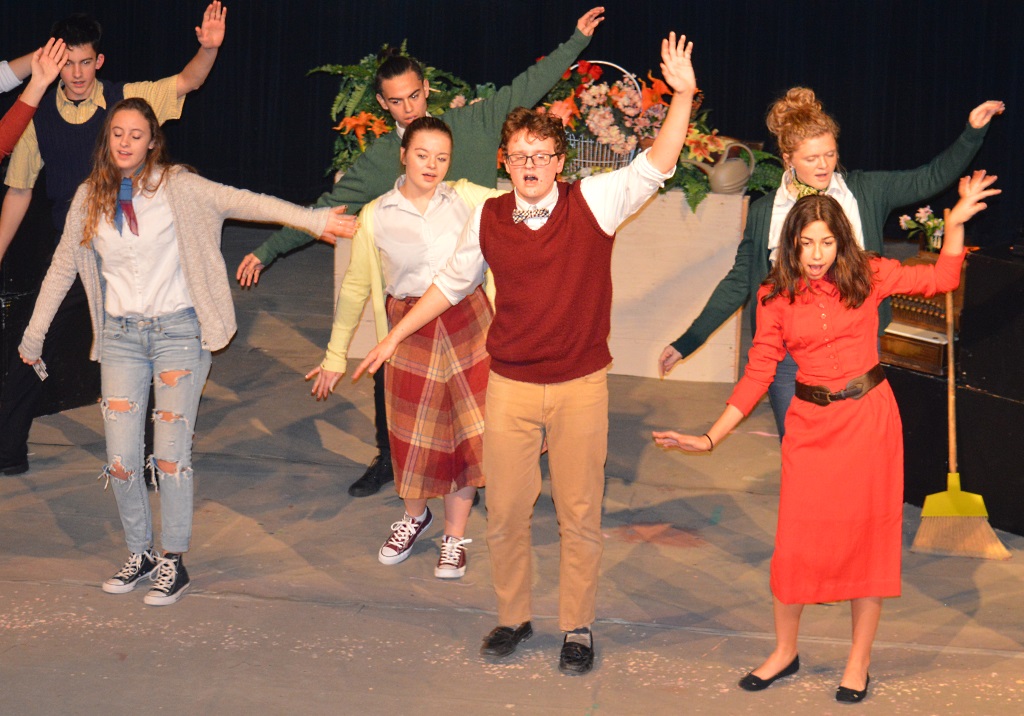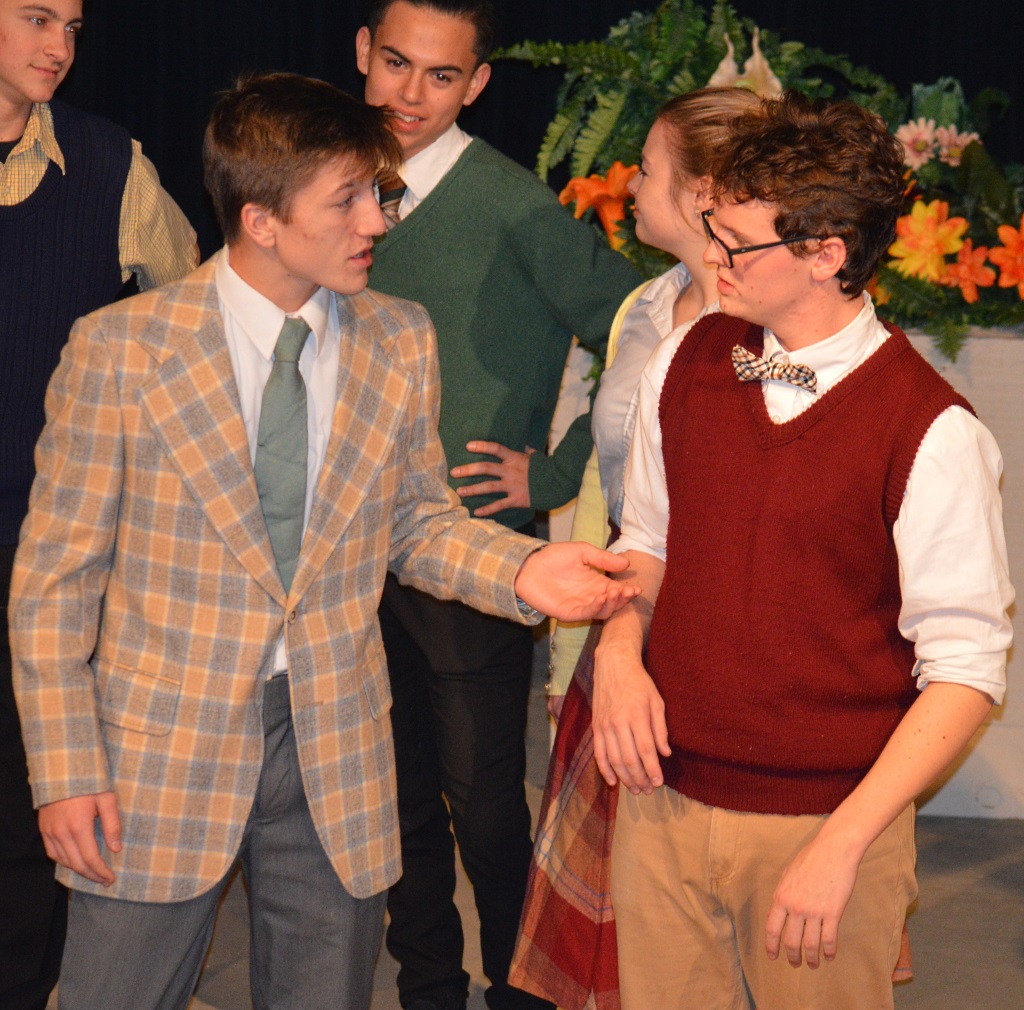 As Seymour works on his speech for a lecture tour, Audrey II again squalls for blood. Seymour threatens to kill it just as Audrey walks in asking when Mushnik will return from visiting his "sick sister." Seymour learns that Audrey would still love him without the fame and decides that Audrey II must die after the interview. Audrey is confused and frightened by Seymour's ramblings, but she runs home by his order. That night, unable to sleep and distressed by Seymour's strange behavior, Audrey goes to the flower shop to talk with him. He is not there, and Audrey II begs her to water him. Not sensing the mortal danger, she approaches to water it, and a vine wraps around her and pulls her into the plant's gaping mouth Seymour arrives and attacks the plant in an attempt to save Audrey. He pulls her out, but Audrey is mortally wounded and tells him to feed her to the plant after she dies so that they can always be together. She dies in his arms, and he reluctantly honors her request. Seymour falls asleep as Audrey II grows small red flower buds.
The next day, Patrick Martin from the World Botanical Enterprises tells Seymour that his company wishes to take leaf cuttings of Audrey II and sell them across America. Seymour realizes the plant's evil plan: during the solar eclipse, Audrey II came from an unknown planet to conquer Earth. He tries shooting, cutting and poisoning the plant, but it has grown too hardy to kill. Seymour, in desperation, runs into its open jaws with a machete planning to kill it from the inside, but is quickly eaten.