Ross Fleming tracked results on phone; Recovering from triple heart bypass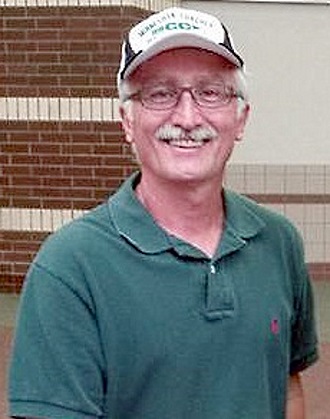 Even though "coach" did not want it – his boys cross country runners for the Mounds View Mustangs dedicated their state run to their mentor, Ross Fleming, a native of Mountain Lake, during Minnesota State High School League's (MSHSL) State Class AA Boys Cross Country Meet held Saturday, November 4, at Saint Olaf College in Northfield.
Coach Fleming was on hand, but, feeling lightheaded, he tracked results on his phone while sitting on a chair inside the Saint Olaf Fieldhouse. The 58-year-old is still recovering from a recent triple heart bypass – but his boys brought him a fifth-place team finish.
Fleming, longtime successful cross country and track and field coach at Mounds View, underwent open heart surgery on Friday, October 20. Doctors performed the triple bypass on Fleming, who had thought the burning feeling underneath his breastbone was a lung infection.
Fleming is a 1978 Mountain Lake Public High School (MLHS) graduate; the son of Dr. Jim Fleming and the late Priscilla Fleming.
He ran on the MLHS boys cross country team in high school, and was an all-conference runner in cross country and track for multiple seasons while also playing basketball and performing in musicals, dramas and one-act plays.
A former Bethel College (St. Paul) cross country captain, Fleming majored in K-12 Health Education at the college. Fleming also studied kinesiology at the University of Minnesota-Twin Cities. At Mounds View, he taught health and physical education, and has coached cross country and track and field at Mounds View Public High School since 1986; boys only since 1990.
Fleming has served as president of the Cross Country Coaches Association, director of team and individual ranking and served on cross country and track advisory committees to the Minnesota State High School Association. He's been director of the Track Hall of Fame committee since 1999. In track, he's been named State Coach of the Year three times. In August 2016, he was inducted into the Minnesota Cross Country Hall of Fame, joining his high school coach, Paul Metcalf, in the elite group.