MLHS salutes the service, sacrifice, loyalty of veterans at 2017 program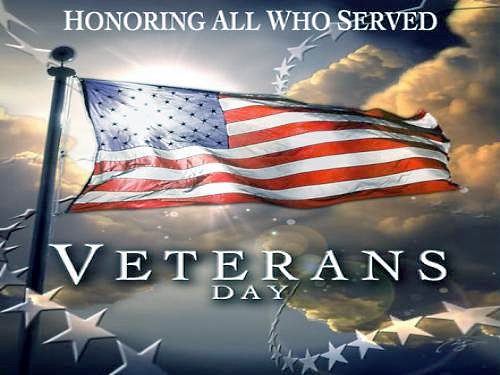 "Veterans – vets – answered a call larger than themselves," shared Nick Naxay, keynote speaker at Mountain Lake Public High School's (MLHS) Veterans Day 2017 program.
Naxay, a 2003 graduate of MLHS, served in the United States Army from 2003 to 2008, rising to the rank of E-5 Sergeant. Naxay is currently a Cottonwood County Deputy Sheriff, after previously serving as an officer with the Mountain Lake Police Department. He and his wife, Sarah, have a daughter, Emma and a son, Landon.
Naxay was introduced by his niece, Destiny Sybounheuan, a MLHS sophomore.
Whether military duty was at home or abroad, the MLHS salute this morning (Thursday, November 9) in the school's auditorium honored the veterans' service, sacrifice and loyalty. (November 11 is the actual date for the annual recognition of the country's veterans and falls on Saturday this year.)
Joining the Social Studies Department (Shawn Naas, Scott Boelke and Jessica Svehla) in presenting the program were members of the Mountain Lake American Legion Post #389 Color Guard; Christine Johnson, Vocal Music Director; Kurt Jahnke, Instrumental Music Director; Michelle Larson, MLHS Principal and two participating MLHS students.
Posting of the colors and leading in the "Pledge of Allegiance" was done by the American Legion Post's Color Guard.
Principal Larson provided the welcome and opening remarks, as well as introduced the veterans attending the ceremony.
Naxay went on to reflect on his military service, most notably during Iraqi Freedom, as he worked as a troop in a coalition of soldiers from around the world. "Serving in the Army made me mentally and physically tough," stated Naxay. "Even now, even though that I am out – I will always be a soldier. My service will always define me until the day I die."
He additionally included a review of the history of Veterans Day, originally known as Armistice Day when it was organized following World War I as a day dedicated to the cause of world peace. Naxay noted that Veterans Day often gets overlooked. "Memorial Day is when we recognize those that gave all in the protection of this country," he laid out, "but Veterans Day honors all who were a part of military service, not only those who gave with their lives.
Naxay, in speaking to the veterans on hand, called those who served "examples of excellence," and he joined in celebrating their service to this nation. "I share your pride.
"Understand that Veterans Day is not just for the vets," closed Naxay, "but for all Americans; providing for a day on which to remember the love of freedom the vets protected."
The Senior High School Band, under Jahnke's baton, shared "The Messenger March" by C. J. Barnhouse, edited by John P. Paynter and "America Again" by Condit R. Atkinson. "The Star-Spangled Banner" and "America," a medley of "My Country," "'Tis of Thee" and "America the Beautiful," arranged by Lon Berry, was performed by the Senior High School Choir under Johnson's lead.
Junior Regan Syverson presented the reading, "How Veterans Day Was Named," and another junior, Chloe Klassen, shared the oral interpretation, "Veterans Day."
The program closed with "Taps," presented on trumpet by Kayla Vonk of the Senior High School Band, along with a  moment of silence and reflection and the retiring of the colors by the American Legion Color Guard.