NWHOF to induct 8 at this weekend's Minnesota Chapter Banquet – including Hildebrandt
This weekend, Mountain Lake native son and longtime St. James Public School Wrestling Coach/Dean of Students/Special Education Teacher Eugene "Gene" – or "Gener" – Hildebrandt will receive a national accolade as one who has spent a lifetime of service promoting the positive aspects of the world's oldest and greatest sport – wrestling.
The National Wrestling Hall of Fame (NWHOF) Minnesota Chapter Banquet will be held this Saturday, April 22, at the Austin Holiday Inn Conference Center in Austin, where Hildebrandt, along with seven other inductee/honorees will be welcomed into that elite group.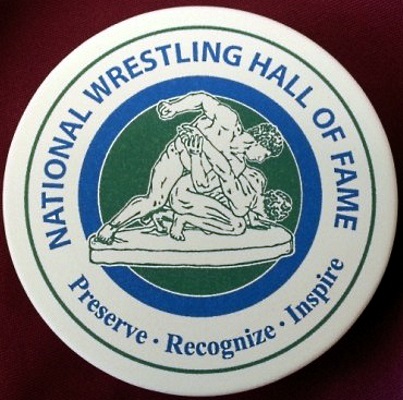 Hildebrandt, along with Steve Bechtold, Jerry Cleveland, Bill Demaray, Jack Eustice and Gary Smith will be honored with Lifetime Service Awards. Dr. Perry Malcolm will be saluted as Outstanding American from Minnesota and Jerry Byers will receive the State Medal of Courage Award from Minnesota.
The National Wrestling Hall of Fame and Museum is a museum and hall of fame for amateur wrestling, headquartered in Stillwater, Oklahoma.
Lifetime Service Awards
+ Eugene Hildebrandt – Coach Gene Hildebrandt was the head coach at St. James High School for 35 years, where he returned the Saints to the promised land. His teams won two Minnesota State High School League (MSHSL) state championships (1989 and 1998). Gene qualified nine teams for the big show. Four of his teams placed. His career coaching record of 471-132-2 was top-ten for most career coaching wins in Minnesota. Gene coached 112 state qualifiers, 46 state place winners- and seven individual state champions. Over the course of his coaching years, his wrestling teams additionally won nine region/section championships, with 66 individual section champions. And, despite the fact that St. James is the smallest school in the South Central Conference, his squads claimed 12 conference titles, were 10 times the runner-up and recorded 91 conference champions. Gene was named Section Coach of the Year eight times and selected State Coach of the Year twice. In 2015, he was inducted into the Minnesota State High School Coaches Hall of Fame (HOF) of the Minnesota State High School Coaches Association (MSHSCA). He is also a member of the St. James Wrestling Hall of Fame. "Gener," a 1974 graduate of Mountain Lake Public High School, the son of Yvonne "Vonnie" Hildebrandt of Mountain Lake and the late Leroy Hildebrandt, also spent 32 years coaching football, 19 years coaching girls softball and one year of girls basketball. All told, that adds up to 85 years of coaching. Gene stepped down from the position of head wrestling coach following the 2013 season, spending time coaching junior high wrestling the following two years. He graduated from Mankato State University (today, Minnesota State University-Minnesota) and came to the St. James Public School District in 1981, where he taught special education. In 1995, he became Dean of Students. As Dean of Students at St. James High School, he implemented the School Within a School Program (SWIS) designed to help at-risk high school youth become successful with a curriculum focusing on social skills and making good life choices and decisions. He certainly made his wrestlers and students successful, not only on the mat and in the classroom, but in the game of life. He and his wife, Julie, have three adult children, Sarah, Danielle and Ethan.
+ Steve Bechtold – Steve gave back 37 years to the sport of wrestling. He wrestled and played football at St. John's University in Collegeville, near St. Cloud and coached at St. John's Prep during his college days. He served as head wrestling coach at Blackduck High School and was co-head at Cass Lake/Blackduck/Bena High Schools. Steve's coaching record was 327-263-5. He coached four state tournament dual meet teams, including a third-place team finish. Altogether he coached 64 state individual qualifiers, 34 state place winners and eight finalists. Steve was a Section Rep for 10 years and served on the Minnesota State High School League (MSHSL) Advisory Board for six years. He was Minnesota Wrestling Coaches Association (MWCA) President and is a member of the MWCA Bartelma Hall of Fame.
+ Jerry Cleveland – Jerry Cleveland has given back to the sport for 42 years as a coach and official. He was a two-time All-American at Itasca Community College in Grand Rapids and Bemidji State University in Bemidji. Jerry was selected as the Outstanding Wrestler of the Northern Intercollegiate Conference in 1975. He was a state runner-up for legendary Hall of Fame Coach Don Dravis at Staples. Jerry's 26 years as a head coach resulted in four of his teams competing in the Minnesota state dual meet tournament, including third- and fourth-place finishes. Jerry was the 1998 Minnesota Class AA Coach of the Year with Cass Lake/Blackduck/Bena High School. He also coached at Elbow Lake, Cambridge and had two tours of duty at Cass Lake and Onida, South Dakota. Jerry coached 38 state entrants, 14 state place winners in Minnesota; and had nine entrants and three place winners in South Dakota in one year. Jerry also officiated at all levels for 40 years.
+ Bill Demaray – Bill had an outstanding 40-year career in the sport of wrestling. Without a doubt, the most successful wrestling coach in the history of the state of Minnesota. He was the architect of the powerful Apple Valley program, where his teams won six state championships. Bill served another 13 years as the top assistant to Jim Jackson, winning 12 more state championships. His head coaching record for 19 years at Apple Valley was 407-70-4. Bill served as President and Secretary of the MWCA and started the Ninth Grade League. He was also manager of the state tournament. Bill was the 1995 National High School Wrestling Coach of the Year. He helped shape Section alignments, the three-class system and the state tournament format. Bill is a member of the MSHSL, Apple Valley, MWCA, North Dakota High School, and North Dakota State Halls of Fame. He was a two-time NCAA Division II National Champion for North Dakota State University (NDSU) in Fargo.
+ Jack Eustice – Jack Eustice was one of the outstanding coaches in the state of Minnesota, where he coached for 24 seasons. His 22-year run at Blue Earth included a 263-87-4 mark. Jack's Bucs won a state championship in 2001. His squad also finished runner-up in 1997. His team won six section titles. Jack coached 18 individual state champions. Sons Ty and Luke won seven individual state titles between them. They also wrestled for the University of Iowa Hawkeyes in Iowa City, and each was a national runner-up. Jack was an National Collegiate Athletic Association (NCAA) Division II national champion at Mankato State University (MSU), today known as Minnesota State University-Mankato. He is a member of the MSU, NCAA Division II, and MWCA Bartelma Halls of Fame. Jack was selected to the 75-Year North Central Intercollegiate Athletic Conference (NCC) Wrestling Team. He was a state champion at Janesville High School. He served as MWCA President and was a State Coach of the Year in 2001.
+ Gary R. Smith – Gary was a two-time National Association of Intercollegiate Athletics (NAIA) National Champion (1963 and 1964) at 191 pounds for St. Cloud State University in St. cloud under Coaches Willis Wood and Ken Cox. Gary was selected as the Outstanding Wrestler for the Huskies in 1964. Gary never wrestled in high school, which is truly amazing! He also placed third in shot put at the 1964 NAIA Track Championships. Gary officiated from 1965-1990. His 25-year officiating career included 46 national college championships, which is believed to be a record for a college wrestling official in Minnesota. His span of officiating included 20 National Junior College Athletic Association (NJCAA) Championships (14 as Head Official), 12 NAIA National Championships, 10 National Collegiate Athletic Association (NCAA) DI Championships (1980-1990) and four National Catholic Wrestling Championships. Gary is currently on the ballot for the Outstanding Official Award in Stillwater, Oklahoma. He serves on the Pro Football Hall of Fame Board of Directors in Canton, Ohio. He's a member of the following Halls of Fame: NAIA (Athlete), NJCAA (Official) and St. Cloud State (Athlete). As the legendary Don Meyers would say, "Gary Smith was a good official all the time, not just some of the time." Minnesota is extremely proud to claim Gary Smith as one of their own.
Outstanding American
+ Dr. Perry Malcolm – Perry Malcolm was a standout wrestler at Anoka High School and competed at Augsburg College in Minneapolis. He earned Doctorate degrees in physics and medicine. Perry served in the United States Air Force from 1984-1995 and received the Air Forece Research and Development Award. He is a Colonel in the Minnesota Army National Guard, where he has served since 1997. Perry was a flight surgeon on four deployments – Bosnia (2003), Iraq (2005), Iraq (2007-2008) and Kuwait (2014-2015). He was a Bronze Star recipient in 2008. Other awards include Meritorious Service Medal (1998, 2005), and he was promoted to Colonel, Medical Corps in 2012. Perry serves as aviation medicine for the 34th Combat Aviation Brigade and 2-147th Assault Helicopter Battalion, St. Paul. He is currently a Staff Physician at the St. Cloud Veterans Administration Medical Center and provides care to 20+ veterans a day. Perry certainly has been outstanding for his profession and his country.
Medal of Courage
+ Jerry Byers – Jerry lost his right leg above the ankle in a farm hay mowing accident at the age of seven during the summer of 1949. He decided to wrestle as a freshman in high school under the late Mankato Hall of Fame Coach LuVerne Klar. Jerry led his physical education class as the fastest rope climber. He only lost two matches as a sophomore. Jerry was an undefeated two-time state champion as a junior and senior (1959 and 1960). He went on to have a 33-year career as the Supervisor of the Mankato City Transit Department. He received numerous honors from them.