"Paying it forward" to better provide for needs of those in Gaylord, Comfrey, Sanborn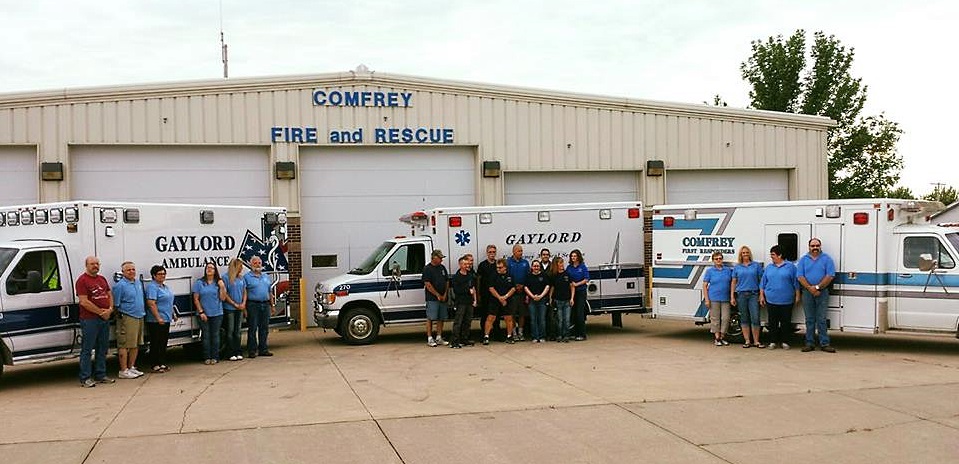 Cottonwood County Management Director Paul Johnson reported on the Emergency Management's Facebook page on Monday night, June 13, that he had been, "lucky enough to be invited to Comfrey to see something truly wonderful. I was unaware of the generosity until I arrived; however the story is awesome."
In early 2015, Gaylord Ambulance President Tom Webster was contacted by an estate executor concerning a donation. Fred Pitzner, a local farmer who had passed away, included the Gaylord Ambulance Service in his will. Webster realized the gift was almost enough to purchase a new ambulance rig. It was decided to purchase a new rig and to "pay it forward." So, instead of selling or trading in the old ambulance rig, Webster convinced his crew they should donate it to a department in need.
After researching area departments, Webster reached out to the Comfrey First Responder crew, whose rig is around 25 years old.
Tragically, while the donation details were being worked out, Tom Webster was killed in an accident. The Gaylord crew wanted to see Tom's goal though, however, and Mark Brandt became the point of contact regarding the donation.
The Comfrey crew had to decide what to do with their old rig. They, too, decided on a "pay it forward" approach, as they felt that, although the rig is old, it may benefit some other community in need. Comfrey reached out to the Sanborn First Responders, as they did not have a first responder vehicle. All calls Sanborn First Responders answer to are in their personal vehicles. Responding in a personal vehicle can be dangerous and inefficient. According to a Sanborn crew member, the crew had been trying to get a rig for eight years.
The donation took place in Comfrey at the Comfrey Fire Hall tonight (Monday, June 13). Gaylord brought their new 2016 Ford ambulance and the 1999 Ford ambulance (that will now become Comfrey's First Responder vehicle). The Sanborn crew also came to Comfrey to take possession of their new to them – and first ever – First Responder vehicle, a 1989 Ford.
Johnson adds, "Cottonwood County Emergency Management would like to thank the family of Fred Pitzner, the Gaylord Ambulance Service, the Comfrey First Responders, Sanborn First Responders, and South Central EMS (Emergency Management Services) for coordinating these generous gifts to these communities. Even though none of the communities are officially located in Cottonwood County, Sanborn and Comfrey do service a portion of the county, and Cottonwood County does have the ability to page the Comfrey First Responders. Fred's gift has helped many people, probably way more than he ever thought, and we also thank Tom Webster for his vision of generosity toward rural cash strapped first responder units."