Will bring production to Saturday's Sub-Section 9A Festival at Springfield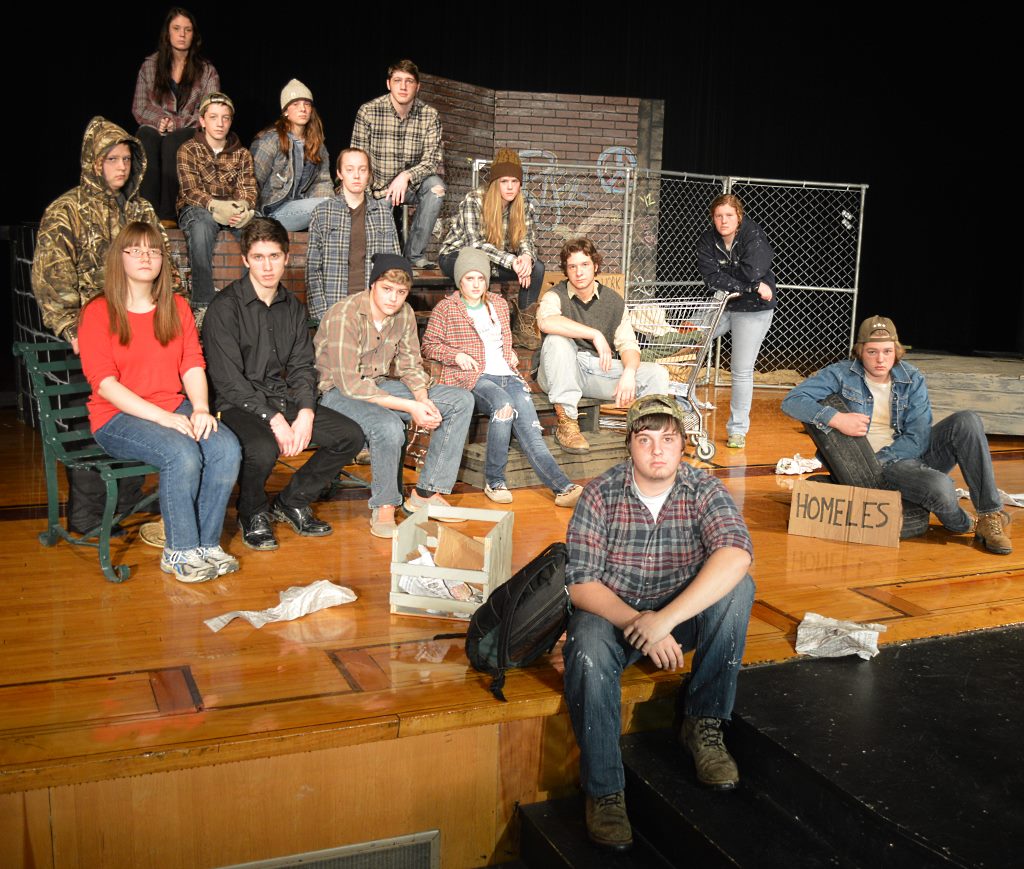 Mountain Lake Public High School (MLHS) thespians, led by directors Julie Brugman and Crystal Fast, will be playin' the "Blues" at the Sub-Section 9A One-Act Play Festival this Saturday, January 31, at Springfield Public High School.
"Blues" is an ensemble play about the lives of the homeless and less fortunate, written by Jerome McDonough. The production looks into the questions: Where do they (homeless) come from? Did they once have homes, like you and me? Have you ever thought what stands between you and life under a bridge in a cardboard box? Will you ever be one of them? It could never happen to you . . . could it?
The play takes place in a vacant lot, where street people sometimes gather. In the play, audiences are given the opportunity to glance into the lives of people living in the streets, including the man who robbed a store to be able to feed his family – and the child who ran away – among others.
"Blues" has been described as a "Handbook for the Future Homeless" – with people who have nowhere to go at bedtime showing what to do when you become homeless. These homeless include the long-term homeless, military veterans, the mentally ill, runaway and tossed-away teens, the newly hard-hit (and long-term) unemployed, single mothers (or fathers) and their children and immigrants.
There are 16 students participating in the MLHS presentation of "Blues." The MLHS one-act is slated to perform at 3 p.m. – the last of seven shows for the day. The festival begins with the first play's opening curtain at 10:30 a.m. Others participating schools include Butterfield-Odin Public High School, Jackson County Central Public High School, Martin County West Public High School, Springfield Public High School, Sleepy Eye Public High School and Wabasso Public High School.
The first- and second-place schools will represent Sub-Section 9A at Redwood Valley Public High School in Redwood Falls on Saturday, February 7 for the Section 3A contest. The State One-Act Play Festival will be held Thursday, February 12 with Class A performances and Friday, February 13 with Class AA plays, in The O'Shaughnessy on the campus of the College of St. Catherine in St. Paul. The representative of Section 3A will take to the stage to earn a "starred" rating at 3:15 p.m. on Thursday, February 12, the seventh of eight plays to be presented on the day.
Cast of "Blues"
Gino – Ben Grev
Tonya, Sharyn, Eleana – Lydia Hildebrandt
Father, Unemployment #2, Chano – Caleb Rempel
Dee,Unemployment #1, Lynne – Olivia Hopwood
Aggie, Social Worker, Juanita – Carmen Syverson
Ice, Hap – Ethan Karschnik
Nate, Ben, Zach – Sam Grev
Quinn, Ynez – Liana Blomgren
Evangelical Woman – Kenna Gardiner
Knife Woman – Brook Sunderman
Mark – Regan Syverson
Chip – Eli Karschnik
Homeless Person – Issac Grev
Crew for "Blues"
Lights – Jareya Harder
Sound – Eric-John Niss de Jesus