Casey Letellier participates in third-annual event with two others from Twenty-Eight Springs, a Siloam Springs restaurant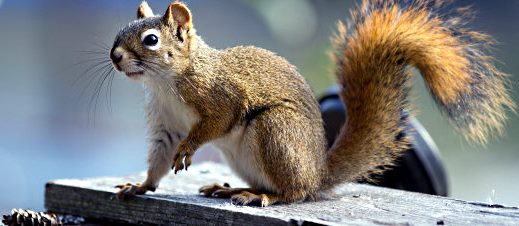 Thirty-eight cooking teams, representing 13 states, presented their best squirrel culinary dish delights at the third-annual World Championship Squirrel Cook-Off in Bentonville, Arkansas, this past Saturday, September 13.
The winning three-member team – winning $500 for their menu display – was from Twenty-Eight Springs, a restaurant in Siloam Springs, Arkansas. One of the team members provides a link to Mountain Lake. Casey Letellier, a graduate of Mountain Lake Christian and son of Glen and Linda Letellier of Mountain Lake, assisted in the presentation, including the hunting of the squirrels used in the team's dishes.
The contest was founded by Bentonville's Joe Wilson in 2012 because, ""I want to make sure the heritage of eating squirrels sticks around," the local news reports. He added that he created the event to make sure people will not lose their appreciation of hunting small wild game. Bentonville is in the heart of The Ozarks, after all. In his "other life," Wilson is a construction project manager.
The Twenty-Eight Springs team consisted of head chef Dorothy Hall, head pastry chef Chris Eads and head drink mixer Casey Letellier. The team created a dish of squirrel meatloaf, a squirrel lollipop and a woodsy whiskey beverage.
A Bentonville television news piece, posted on 5 News Online, quoted Hall, sharing that, "We've been planning for a couple months now, and Casey went out and was hunting and accumulating squirrels, and we did several test rounds to figure out what it was we wanted to do."
Letellier interjected that he hunted the fox and grey squirrels on his family's property in Decatur, Georgia. "It's a challenging time of year to hunt squirrels, the leaves are in full canopy, they're really difficult to see, but it's also great to have an excuse to get out in the woods," Letellier said.
According to the World Championship Squirrel Cook-Off website, squirrel meat is very lean, has perhaps a tougher texture that is a little bit "gamier," is all natural – and sports a flavor all of its own.
Squirrel was once a popular meat, especially in the South's hills and hollows, as well as a life-saving source of protein for destitute – and desperate – families during the Great Depression.
The proceeds from the squirrel cook-off go to the Youth Bridge foundation in Fayetteville, Arkansas.
Other competitions held during the day included the National Squirrel Calling Competition and The Bacon Bowl.