Time in Mountain Lake likely separated Eddie Galles from stint in prison; set him straight on road to personal achievement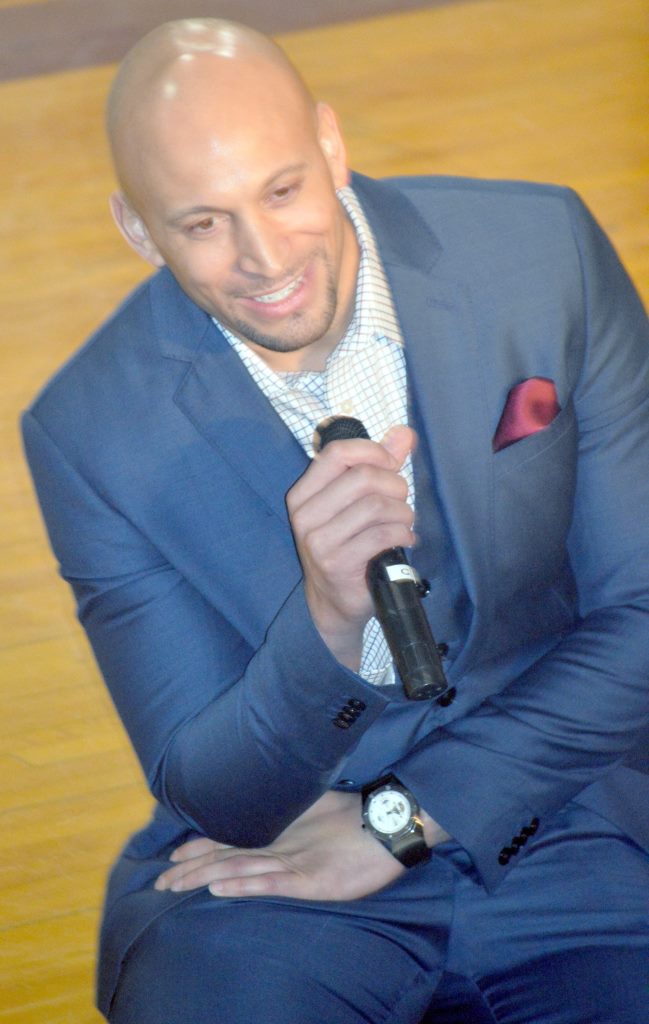 A year spent in the Mountain Lake community – living on a farm and attending Mountain Lake Public High School (MLHS) – very likely is what separated Eddie Galles from a stint in prison – and set him straight on the road to personal achievement.
This acknowledgment comes from Galles himself. He shared as much with MLHS students in grades 10 through 12 in a special lyceum on Friday morning, May 9, in the school's auditorium. Galles' words of wisdom to the students was only one-half of the reason as to why he was back at his high school alma mater; with the second half set to be revealed later that morning.
Galles' description of his youth and early teens is one of struggle and slide. The struggle of being raised by a poor single mom (his mom is white, his father is black) with mental health issues, living on welfare, in homeless shelters – or even homeless – with a sister nine years older than himself often his caretaker. Coupled with the slide of shoplifting and stealing cars to becoming part of a gang; a group of friends in which he felt he fit.
"I found myself surrounded by bad influences," Galles told the students. "I was always ready to fight, I wanted it. I needed to be the toughest guy."
Eventually he ended up expelled from school and serving in a juvenile detention center after a series of bad choices; choices that included beating up a fellow student with a lunch tray. drinking alcohol, driving a vehicle without a license – and possession of a handgun. "I was smart enough to know right from wrong," continued Galles, "but there was no one to at home to put any strict limits on me, so I figured, 'Why should I care if no one else does?'"
After the string of run-ins with law enforcement, Galles was set to be placed in a group home, but, before he would be accepted into the home, an attitude adjustment in a more structured environment was advised, so he was sent to a boot camp. "At the time," Galles recalled, "I figured, 'Okay, I'll do your little song-and-dance' so I can get outta here and into the group home."
His time living in the group home did not have the desired effect in making a positive change in Galles' life – "I was just manipulating the other kids to get what I want" – and he was kicked out of the home.
Galles' options in life were becoming slimmer and slimmer. "I was down to house arrest – or going to the Red Wing Juvenile Correctional Facility," Galles laid out to the students. "I had pushed my parole officer, Paul Ahern, and my social worker, Kelly Harder, to their limits. In the end, I chose house arrest. So, for the entire summer of 1998, I could not leave my house.
"One thing I did enjoy in life was participating in sports, but, since I had not applied myself in school academics, and had so many behavioral problems, sports was out; not an option."
It was at that point when Kelly Harder, a native of Mountain Lake and son of Brian and Carol Harder, came to Galles with a choice and a chance; the opportunity for a fresh start. That alternative was to live with a foster family. Sharing what he had said at the time, Galles had flat out told Harder, "Uh, no . . ."
With persistence – and dangling the carrot of sports participation in front of Galles – Harder eventually did sell the idea to the 17-year-old. "Kelly told me, 'We will make sure you graduate, and be able to play sports.' What he didn't tell me was something I saw on the Mountain Lake sign as we pulled into town – Population: 2,082. I said, 'What? 2,000 people? That's not a city.'"
But, as Galles was shown around the football field, track and gymnasium, he figured he would give it a shot. "I could reinvent myself," declared Galles, looking back at that introduction to Mountain Lake in a positive light.
His next surprise was his new home – on the farm of Larry and Julie Falk, along with their children, Josh, who was six-years-old at the time, and Mikayla, who was age two. (Today, Josh is soon to be a graduate of the nursing program at the University of Sioux Falls (USF), Sioux Falls, South Dakota and Mikayla will graduate from Mountain Lake Public High School this spring and then head off to study nursing at USF, too.) "It was an interesting family dynamic back in 1998 to say the least," Galles acknowledged. "The Falks were welcoming of me. They took a chance on me – and in the end – it all paid off."
That senior year of high school, Galles was able to remove himself from the sour environment in which he had been living and focus on studying and playing sports. "I was able to focus on myself." Galles was a wide receiver and defensive back on the football team, played point guard on the boys basketball team and was a sprint speedster in track-and-field, advancing to the Minnesota State Class A State Track-and-Field Meet in the 200-meter dash.
"In January 1999, during Wolverine boys basketball season, I met Mike Emmert, the Youth For Christ Director. And he showed me how integral faith and God are in life. I went along to church with the Falks. This was all something new. I felt I could do anything; there was nothing in my way. I saw the bigger picture. It was clear to me that something in my life had changed."
From there, Galles began to set clear goals for himself – he even graduated on time.
How crucial were the changes in Galles' life at that point in his life? If he would have remained in his hometown – a larger city – he could very well have found himself in prison.
"That October 1998 of my senior year in high school," Galles reflected, "two of my close friends from back home were arrested; one was given a 10-year prison sentence for second-degree murder and the other received two years for aiding and abetting. As well, another friend – one month later – was convicted of a second-degree murder charge. In either of those situations – it could have been me. These were very close friends of mine. And, at the time, I was quite the follower, so . . ."
After graduating from high school, Galles went on to Minnesota West-Worthington, and played football as a Bluejay. Later he was a walk-on wide receiver for the Panthers at the University of Northern Iowa in Cedar Fall, Iowa. "I trained hard, worked hard, and was fortunate to set a couple school records," Galles stated.
He was picked up as a free agent with the Cleveland Browns of the American Football Conference of the National Football League and played in a trio of pre-season games with the Browns. Galles also played two years of arena football as a wide receiver with the Los Angeles Avengers and the Columbus Destroyers.
While living in L.A., Galles' neighbor, a movie director, cast him in the 2006 movie, "Invincible," with Mark Wahlberg, where he was able to do a number of football stunts.
A look into the future directed Galles back to school. He attended Drexler University in Philadelphia, Pennsylvania, becoming a physician. Today he is an emergency room doctor in Dallas.
The main points Galles stressed to the students were:
*Always believe in yourself.
*Set goals for yourself.
*Continue to focus.
*Surround yourself with people who will have a positive impact on your life.
Now Galles has returned to Mountain Lake – a place where a year in his life gave him a 180-degree turnaround – in order to give back. He has established the Dreamchaser Scholarship, a scholarship for a senior similar to himself; one who has also overcome hardship and adversity, one to whom life does not all fall neatly into place.
This year, Galles has named two recipients of the Dreamchaser Scholarship. They are Jose Gonzalez, who will be attending Minnesota West Community and Technical College- Jackson Campus, studying computer technology and Cheyenne Narber, who will be a culinary arts student at South Central College in North Mankato, and who has dreams to one day own her own restaurant.
The narrative of 33-year-old Eddie Galles' life is script-worthy, perfect to be turned into a full-length feature movie – a truthful tale that would feature many positive film frames telling of his year in Mountain Lake – and his return 15 years later in order to give back to a place, a home, a school that helped him chart a new direction – and to extend that same chance to other MLHS grads.