World War II German soldier's Soldbuch contents detail more about the man than just that he was fighting on opposite side
Note: Sharing this story in this fashion is probably the best opportunity in an ongoing 70-year effort to find the family of Oberleutnant Michael Winklmann, killed during World War II, and whose Soldbuch came into the possession of my father, Gordie Neufeld, a United States Army Private First Class at the time. While serving as a medic, he came upon the possession of the personal effects of a German soldier who had died while being cared for by my father's medical evacuation hospital. Immediately following the war, and again a decade later, he attempted to track down the family of the family – to no avail. I have shared this story in the local newspaper and in honor of what would have been my late father's 89th birthday this Sunday, March 23, 2014 (he passed away 23 years ago), I am using this method to spread the story. Hopefully posting this story on an internet news source will provide the far-reaching communication stretch necessary to reach any of the soldier's family and/or descendants.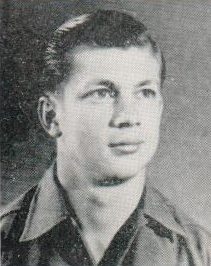 My father, the late Gordie Neufeld, was drafted into duty with the United States Army at age 18, just two months after his May graduation with the Mountain Lake Public High School Class of 1943. He stood 5'4″ (with a strong wind at his back) and looked far younger than his years, which earned him the nickname, "Baby." For 2 1/2 years (until January  1946) he served in the European Theater of World War II, honorably discharged just two months shy of turning 21.
During his military service, he was an ambulance driver and medic for the 109th Semi-Mobile Evacuation Hospital as it moved through England, France, Germany, Belguim and Czechoslovakia.
He came of age during a time of war in a foreign land, compelled like so many other young men, as well as women, to make a swift transition from teenager-to-adult due to the circumstances they faced. For him, that meant caring for the wounded, the dying and the dead – friend or foe – Allied or Axis soldiers.
One of those to which he tended – one of those he was to be fighting against – was Oberleutnant (First Lieutenant) Michael Winklmann of the Germany Army. Although Winklmann did not survive his injuries, my father saved his Soldbuch and its contents. (A Soldbuch is the identity document of a German soldier. Literally translated into English as "pay book," it contains very detailed information of the soldier; including his physical description, units with which he has served, promotions, wounds, payments, awards etc. The Soldbuch was to be carried with the soldier all the time in tunic pocket.) Following the war, and again a decade later, he searched in an attempt to find the soldier's family members and return the book and the letters, photographs and other papers packed inside.
Who was Michael Winklmann?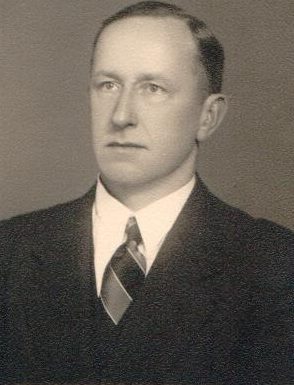 Who was Michael Winklmann?
The only clues are those found in his little brown Soldbuch – identification papers – including his Personalausweis (identity card), certificates, German money, personal letters – all typed or handwritten in German – as well as black-and-white family photographs.
To unlock the secret of who was Michael Winklmann, I enlisted the assistance of Marie Wiens and Ede Willard. Using the pair's translation skills, the three of us tried to piece together the puzzle pieces of the man. What facts were uncovered deciphered from the aged, fragile and yellowed papers from German-to-English. There is much about Winklmann that could be clearly fleshed out through translation, while other thoughts are pure speculation based on what the photographs suggest.
Michael Winklmann was born one day after Christmas – December 26, 1905, in Denglarn, Germany, a city northeast of Munich in eastern Germany, close to the Austrian border and in the thick of the Bavarian Forest.
After he grew into a man, and eventually became a German soldier, he described himself as having an average body build, dark blonde hair and green/blue eye color.  One identifying feature was a scar on the left side of his abdomen, a reminder he carried from an earlier hernia operation.
Winklmann was in the ""B" blood group. We know the length and width of his feet, his military number, assigned gas mask number, postal number, troop unit; when he had time-off days and where he went during them (to Barnhardsthal in Austria and Wegscheid, Germany), that he carried a permit allowing him to raise poultry – and that he had an Armed Forces Hunting License – for which he carried hunt liability insurance.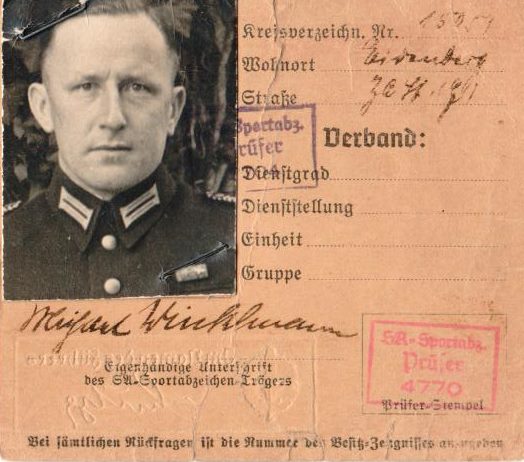 Oberleutnant (First Lieutenant) Michael Winklmann served in a secretarial post (Zollsekretar) as a member of the German Army, and had received the Sport Badge as one of his auszeichnungen (honors).
It was also revealed that he had fallen in love – and later married – Rori Zingwirth of Bernhardsthal, a city in the northeastern corner of Austria, northeast of Vienna and only several miles from the border of either Czechoslovakia (today known as the Czech Republic) and the current country of Slovakia.
Of the photographs tucked into his Soldbuch, one shows Rori standing alone with melting snow surrounding her and a very large house in the background. One the reverse side, she had written the location of where the photograph was taken – Eidenberg, Austria (west of Vienna) – and the date on which it was taken – March 6, 1938. She had also added the message: "Thinking of you. Your Rori. Love you forever."
Several of the photographs are of Winklmann himself – two dressed n a suit-and-tie and one in uniform.
Another photograph shows Winklmann, dressed in lederhosen (leather pants), and holding a child, two more by his side. The landscape in the background appears as if it could have been taken in Bavaria.
Additional photographs are of children, and another of two women – including Rori – standing in the middle of a group of children.
The backs of these photographs are, unfortunately, blank – nothing to tell us what role these individuals played in Winklmann's life.
Who was the woman pictured with Rori? Where were the photographs taken? How old was Winklmann, Rori or the children at the time they were taken? Were the children in the photographs his children with Rori? If the answer to that last question is "Yes," those children would – if still surviving – be in their mid-to-late 70s.
Aging and fragile letters from Rori, written throughout 1943 and 1944, were also found in the collection of effects of the Soldbuch. The postmark on all is from Wegscheid, Germany (in northern Bavaria, just one mile form the Austrian border and from miles from the Czech Republic).
She began each with the salutation, "Mein lieber mann" ("My dear husband") – followed by an exclamation point – and always closed with, "Always love, Rori."
The text of her letters shared of the goings-on at him, and often she lamented about not hearing from him in quite awhile. In one letter, Rori wrote that she hadn't heard from him in 23 days; in a second that she wasn't getting his mail and, in yet another, she asked him if he had gotten her letters because she hadn't received any from him.
The letters were crammed full of Rori's thoughts, the young woman writing on both sides of the page – as well as squeezed in around the edges of the paper.
The last letter Winklmann received was dated July 17, 1944 – which would have placed he and his unit – and my father and the 109th – in northern France. That would be the time and place where 38-year-old Winklmann's life would come to an end.
In a heartbreaking turn of events, Winklmann carried Rori's letters with him, tucked in his Soldbuch until his life ended – with Rori unaware that her letters were indeed received.
My father with the 109th
The 400-bed 109th Semi-Mobile Evacuation Hospital, fully equipped and staffed with doctors, nurses and medics, was activated in June 1943 at Camp Carson in Colorado with Colonel George Prazak commanding, and held maneuvers in Portland, Tennessee.
On January 29, 1944, the unit departed for processing at Camp Forrest in Tennessee and departed for staging at Camp Kilmer in New Jersey on March 12, 1944.
Movement for the United Kingdom took place on April 6, 1944 about the Aquitania.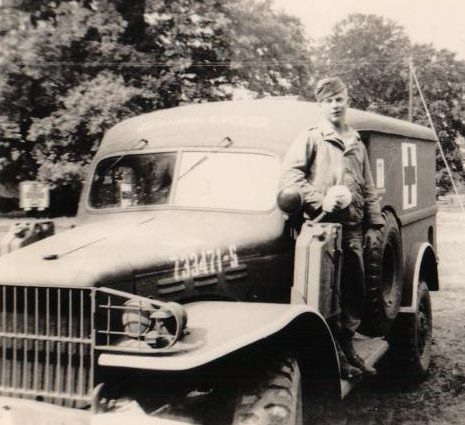 The 109th was assigned to the Third Army and debarked for Southport, England. At that time, headquarters was established in hte Bold Hotel, with personnel billeted in private British homes. Detachment Headquarters and messing facilities were in the Botanic Gardens in Churchtown.
By May, the entire unit was in Dorset, England and was set up under tents at Transit Hospital #13 under the Southern Base Section.
On June 1, 1944 ,the hospital was officially opened, and the first battle casualties were received on D-Day plus 1 – June 7, 1944.
In July, the unit reverted to the Third Army and embarked on the HMT Isle of Guernsey, debarking on Utah Beach in northern France later in the month.
The evac hospital was attached to the First United States Army and established a hospital near Lison, France, performing 159 operations during their first 24 hours on French soil.
From Lison, the unit moved across northern France: to St. Sever Calvados, Houdan, Frontenelle, Dodncout, Thiacourt, Boulay and Montmedy.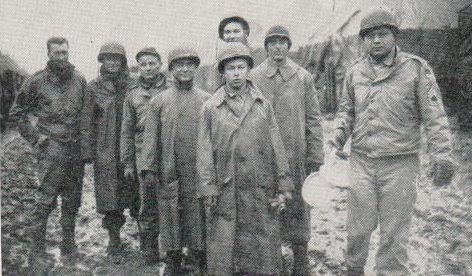 At that point, they crossed into Belguim, establishing the hospital in the Institut de S. Ode near Sprimont, Belguim and taking part in the Battle of the Bulge – the last major German offensive on the Western Front.
By March 1945, after he Allied victory at the Battle of the Bulge, the 109th had moved with the Allied line into Germany, finding themselves at Trier.
The Rhine River was crossed and the hospital was established under tents at Nauheim, Germany later that month. This move gave the 109th Evac Hospital the distinction of being the first Third Army Evaucation Hospital to cross the Rhine and the first hospital under tentage.
In April 1945, the hospital was established near Langenzenn, Germany. From there, the unit moved in early Mary to an area near Kotzting, Germany. VE Day (Victory in Europe Day) was officially proclaimed during this bivouac.
The hospital was later set up in a city park in Pilzen, Czechoslovakia, opening on May 11, 1945. It was then reorganized to function as a station hospital.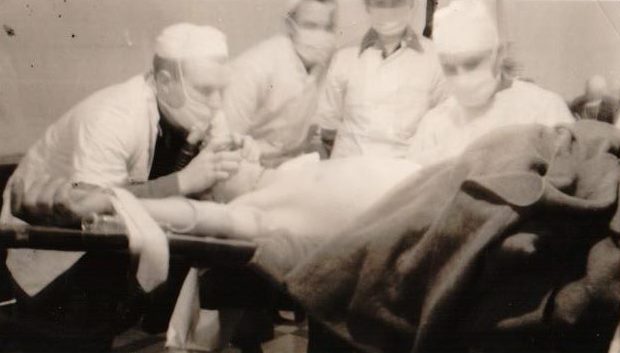 From D-Day (June 6, 1944) to VE-Day (May 8, 1945), the 109th admitted, treated and evaluated 21,822 casualties, with a death rate of 0.65%. Total of admissions through June 15, 1945 were 25,267, with the staff dropping the evac hospital's death rate to 0.57%.
The 109th was awarded the Meritorious Service Unit Citation, European Theatre Operations, Victory and American Theatre ribbons and Bronze Battle Stars for campaigns in Northern France, Normandy, Central Europe and Rhineland.
Realities of war – from different sides
My father, Private First Class Gordie Neufeld and Oberleutnant Michael Winklmann were involved in the same war – but saw it from different sides – and learned of its realities in very different ways.
Following Winklmann's death, my father gathered his personal items with the hope of eventually returning them to the soldier's family.
Yes, in terms of the war, Winklmann was the designated "enemy" – however, he was also a man with almost four decades of a personal history-  and a family that needed to have closure.
Perhaps this article will reach family members – and the Soldbuch will at least be handed over.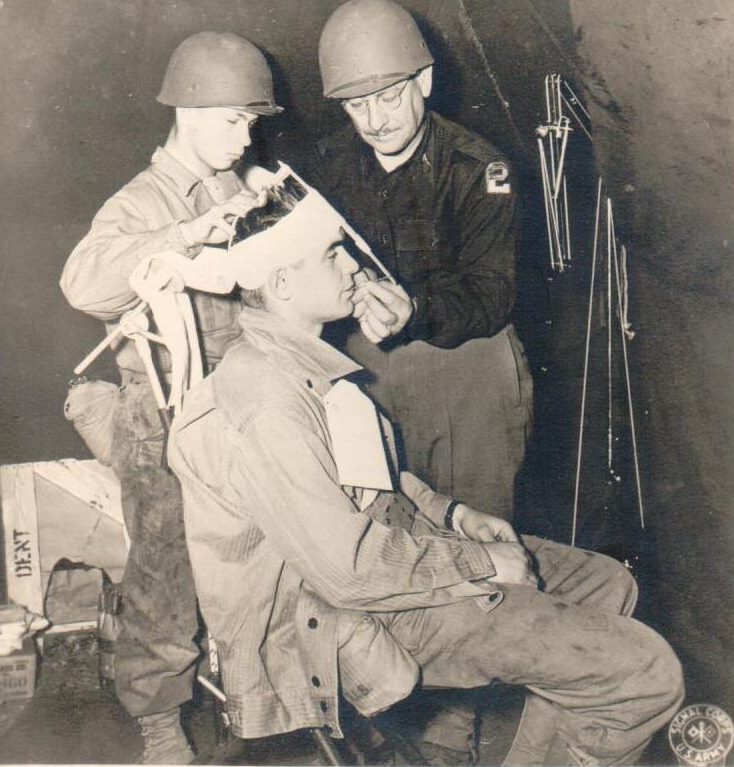 Below, the front cover of Oberleutnant Wichael Winklmann's Soldbuch, his hunting license and photographs tucked inside the pay book.