CD Johnson ends up in Ulaanbaatar, Mongolia

"Mountain Lake is an amazing town in which to live – and I would be comfortable in it for the rest of my life," states former Mountain Lake Public High School chemistry, physics and science teacher, as well as wrestling and track-and-field coach, 25-year-old Craig (CD) Draper-Johnson. "The problem for me," he declares, "is that I am not ready yet for the 'rest of my life.' I want adventure. I want change. I want a challenge."
Which is how – covered with wanderlust dust – CD found himself last August in a faraway place – 13 hours ahead of Minnesota time – Ulaanbaatar, Mongolia.
CD was a teacher and coach in Mountain Lake during the 2012-2013 school year. The year before that he had the same roles in the St. James Public School District. Over the course of the year he was teaching in Mountain Lake, CD bought a house – a house in which his mother, Yvonne Draper, still lives. CD, who grew up in LeRoy, Michigan is a teacher by profession – and by love of a career. He graduated from Southwest Minnesota State University-Marshall in 2011, earning a degree in elementary education – and a specialty in middle school science.
With his background in education – and his yearning to explore and rack up new and unusual life experiences – CD applied for teaching positions worldwide, while, he notes, "avoiding places that spoke English, as I believed it would be TOO easy to adapt in such situations." A representative from Mongolia contacted him about his current posting as Middle School Science teacher – "and I took it! I got here in August 2013, and have been here since."
Ulaanbaatar is the capital and largest city in Mongolia (once a part of the old Soviet Union) with 1,200,000 people – and is quickly growing even larger. It is located in north-central Mongolia, and connected by rail to the Trans-Siberian Railway in Russia and the Chinese railway system. "There is so much traffic, and people drive as if they were riding horses," describes CD. "If there is an opening – they pull into it. It takes some getting used to, but you always have to plan around it."
Ulaanbaatar is the country's political, social and economic hub. "There is a large open market, that has all sorts of things, including meat and vegetables laying out for people to take. Most places that you buy groceries from have a hard time keeping stock, or keeping the same stock. So if you see something you really like, you buy as much as you can," explains CD. "And, because it is a growing city – with new buildings being thrown up on any available patch of ground – things can sometimes be hard to find. For example, I run and workout a lot – but – running shoes and athletic equipment is somewhat difficult to track down."
Despite so many differences, CD emphasizes that it is remarkable to him how similar life is in a country half-a-world away. He continues, "Before I came, I had this preconceived notion that I was moving to some remote part of the world, and that life was going to be a constant struggle. But, I still have a lot of the 'nice' things from back home. There is wireless internet, coffee shops, ice cream, pubs, restaurants of all different nationalities, movie theaters, bowling alleys and – hooray – Cinnabon! There is just one fast food restaurant – and it is not 'McD's' (McDonalds) – but 'KFC' (Kentucky Fried Chicken)."
In fact, Ulaanbaatar is quite a contrast – from a fast-growing city that includes a bohemian counter-culture and night life, tourist attractions, European fashion shops and Mongolian cashmere boutiques and taxis, Humvees and Landcruisers – to islands of serenity, like quiet monastery courtyards, public squares and the odd beer patio. The river rolling by the city – the Tuul Gol – provides a respite to the south, while the four holy mountains that surround it provide a picturesque horizon view. The ever-expanding ger (yurt) suburbs that surround the city offer a glimpse back to Soviet urban planning.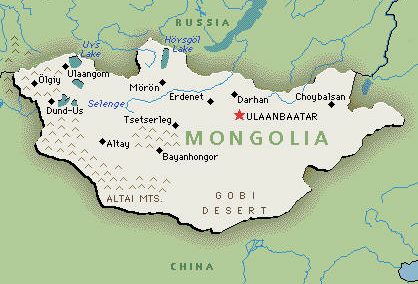 Ninety-percent of CD's Middle School Science 6th-8th grade students at American School of Ulaanbaatar are Mongolians, a few are Korean and a couple are American. "The staff at the school is mostly foreign, with a good mix of American, Canadian, Australian – and all over really. The school day is the same as back home – 8:30a.m.-3:20 p.m.," explains CD. "It is an international school that follows curriculum from Ontario, Canada, so it follows the same standards that Ontario follows."
Since he has been in Mongolia, CD has been able to make a lot of new friends – not only within the school but also outside of the school setting. "In my journey here, I now have very good friends from all over the planet," states CD enthusiastically. "Some of my best friends are from Canada, South Africa, New Zealand and Australia – as well as other places from all over the United States.
By chance, he met a guy named Steven Barrett outside a grocery store. Inserts CD, "He saw my shirt had 'wrestling' written on it, and put me into contact with members of the Mongolian National Wrestling Team. Steven is in Mongolia with 'Athletes in Action.' This was back in October."
Since then, CD has wrestled about 1-3 times a week with the team – or another group that trains right after them. He has had the opportunity to work out with some wrestlers who competed in the Naadam, a large wrestling festival held in the summer.
"I wrestle at 86 kilograms (kg)," CD explains. "I was able to compete in the Mongolian Open Wrestling Tournament at the beginning of March – and just this past weekend – competed in the Buryatia President's Wrestling Tournament in Ulan-Ude, Russia. In the Mongolian Open, I competed against a Russian – Albert Saritov – who is a prior world medalist. I lost, but it was a good experience – and not many people can say they have had the opportunity to do that."
CD notes that he has learned a lot – a lot about the people of Mongolia – and a lot about himself – over the months between August and now.
"The people of Mongolia are a very proud people. You have to be tough to be from Mongolia and live in Mongolia," CD shares. "The people take pride in that. It means a lot to them. The country itself is growing so rapidly, and becoming westernized – mostly due to mining. It has a hard time keeping up. It is losing some of it's culture along with the westernization. The people here are fighting it – but are also embracing it at the same time. They want to grow and be strong within the world setting, but don't want to lose what it means to be Mongolian.
"As for me, I feel like have grown up a lot in the months since I have been here. I thought I was independent before and self-sustaining. I feel like I am constantly learning something new – about Mongolian culture, about teaching, about friendships – about everything. But," CD stresses, "what I think I learned the most is – it isn't so much where you are in the world – but rather who you spend your time with. I've made some great friendships in the last few months that will last with my for the rest of my life. The same as I did in Mountain Lake, the same as I will do wherever I happen to go next."