Eagles' girls hockey forward, Alexis Jellema-Baerg of MLHS, is team's second-highest points leader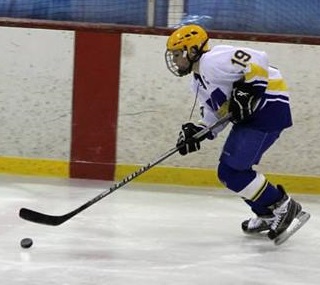 Underneath the 20 pounds' worth of equipment – athletic shorts, T-shirt, shoulder pads, elbow pads, shin and knee pads, breezers with hip pads, jersey, socks, gloves, brain bucket with cage and ice hockey skates, and beyond the wooden hockey stick – beats a heart that thrives – that comes alive – when bringing the biscuit down the ice.
The love for the sport of hockey runs deep – and could quite likely be genetic emotion – for Mountain Lake Public High School (MLHS) sophomore, Alexis Jellema-Baerg. "My dad played hockey, so did my uncles. It has just been something I have wanted to do since I was little," shares Alexis, a forward – #19 – on the Windom Area Public School Eagles' girls hockey team.
And the 16-year-old Baerg, daughter of Jim and Michelle Baerg of Bingham Lake, has been actively pursuing those goals long before she became a varsity team member when she was in seventh-grade.
Says Eagles Girls Hockey Head Coach Nathan Boler about his forward who handles face-offs at center ice, "Alexis has had a great season, moving to forward after playing defense for us in the past. Currently, she is second in team points with 6 goals and 5 assists. She has provided a nice spark on offense and has provided great leadership as one of the more senior members on the varsity squad."
Alexis sports a "C" on her jersey, identifying her as captain of the team- a leadership role she has held since she first put her skates to ice on varsity. And – she is the only girl from Mountain Lake participating in the sport – or in the entire system. In fact, in school history, Alexis is only the third girl to skate competitively on an extracurricular team. Prior to Alexis, MLHS students Becky Peterson and Nicole Hiebert sliced the ice on Eagle squads.
Hockey – the 'cool' sport
Aware of the fact that "you miss 100% of the shots you don't take" – Alexis took heed of that philosopher's idiom by making her wishes known at a young age. "I wasn't interested in figure skating. I wanted to skate, but I wanted to play hockey like the others in my family had. I played mites with the boys as a first-grader," she reflects on her personal hockey history. "I went through mites to squirts to pee wees – but skipped bantams to go right to varsity on the girls' team," adds Alexis. "Along the way there was always one or two other girls on the ice with me – and the boys."
Hockey can be a bruising sport, but, Alexis notes, "Checking into the boards is not allowed in girls hockey – but they do let us make 'contact' – just so long as we don't drop our shoulder and go in for the hit."
Eagle girl skaters on the season; heading into post-season
The Eagle girl skaters finished the regular season by defeating Worthington at the Trojans' rink, 4-2, on Friday, January 31. The win gives Head Coach Boler's young squad a 4-14-1 season record, with a goals per game average of 1.63. The won-lost record for 2013-2014 shows a measured improvement from last year's 1-18-1 mark. The team's assistant coaches are Dean Drahota, Sam Harrold and Brooklyln Drahota. "We have definitely grown a lot better over the course of the season," Alexis declares.
Skaters on the team are pulled from the Mountain Lake, Jackson, Heron Lake and Westbrook School Districts, as well as the Windom District. Eighth-graders dominate the roster with six sharpening their skates to play. The roster has only a pair of seniors, a lone junior and three sophomores which includes Alexis, one freshman and four seventh-grade skaters.
They play in the Southwest Conference along with Luverne, Marshall, Morris/Benson and Worthington, finishing third this season behind Luverne and Marshall. The team competes in Section 3A of the Minnesota State High School's State Girls Hockey Tournament.
The team, seeded fifth in the seven-team section, will open this year's playoffs this Friday, February 7, when they face the number four seed, Fairmont, of the South-Central Conference, in the Cardinals' barn. They will be seeking revenge for three losses to the club during the regular season, but declares Alexis, "We have the capability to defeat them."
The winner plays the sections top seed – New Ulm.
(Ironically, February 7 is also the "birthday" of  the word "puck" as it was first recorded in print on that date in the 1876 edition of the Montreal Gazette. And fortunately, the vulcanized rubber discs used today are a far cry from what was used in the earliest hockey games – chunks of frozen cow dung.)
Speak softly – but carry a big hockey stick
In the off-season, Alexis stays fine-tuned by logging miles running, as well as roller-blading, along with lifting weights. This spring she plans on participating in track-and-field – running the 400 meter and tossing the discus come to her mind as possible events – to remain in fit shape.
Currently,she  is on a campaign to encourage and recruit girls into the hockey corps, beginning at the mite (or really, any) level.
And she would like to take her own hockey game to another level after high school graduation as well. "I would really love to play women's hockey in college," asserts Alexis enthusiastically. "I have been attending hockey camps at area colleges, hoping to make an impression. My 'dream' college to attend would be Gustavus Adolphus College in St. Peter – and the icing on the cake would be able to skate for the Gustie women.
"I know I wasn't very good early on in varsity," admits Alexis, "but I kept working hard to gain the respect of my coaches, teammates and opponents.
"You know what they always say," she adds, with a smile on her face, "Don't go throughout life without 'goals.'"