LaVonne Oeltjenbruns underscores timeline of 10 developments central to her survival of a brain aneurysm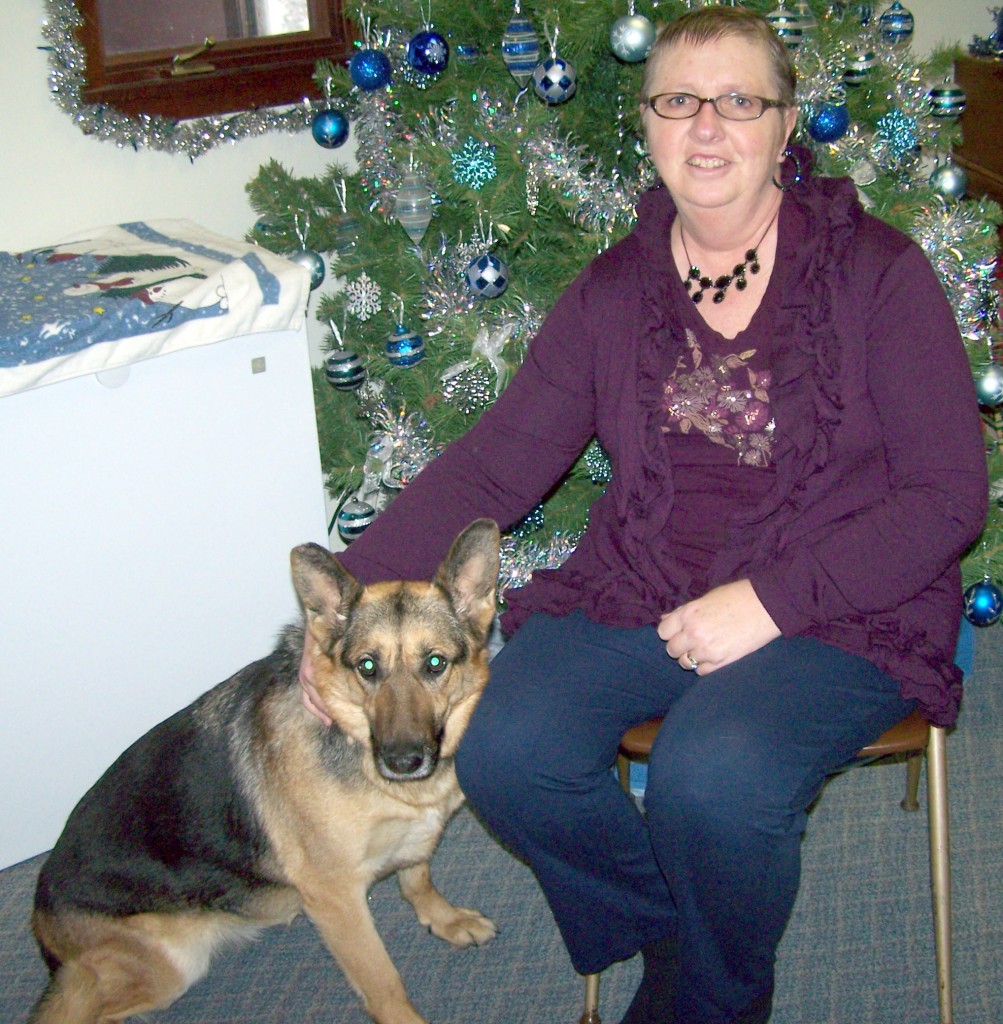 Considering the remarkable turn-of-events that played out makes the listener wonder – along with the storyteller – whether they were coincidences – or rather, timely miracles.
The decision is yours to make, but the storyteller knows in her heart that what happened in her life during the summer of 2011 is to be marveled, with each anecdote shared occurring at just the right critical moment.
For the majority of those crucial instances,  LaVonne Oeltjenbruns of North Mankato was comatose – unaware of how each one of was necessary be lined up in just the right order to help her survive the brain aneurysm she suffered two-and-one-half years ago. She was not aware during those first minutes, hours, days and weeks of the health (and life) emergency of the timeline or of the 10 developments that played a central role to her survival.
However, she is now keenly aware of each and every one of them – and is not wasting any time in sharing this story, and of where she views life from her new vantage point – known as the second-chance seat.
The starring cast of characters
The lead female role is that of LaVonne Oeltjenbruns, the daughter of the late Mary (Friesen) and David Regehr. She grew up on a farm near Jeffers, Minnesota, but attended church at Bethel Mennonite Church in Mountain Lake, Minnesota. She married her high school sweetheart, Al Oeltjenbruns, the lead male character – a bear of man who wrestled in high school, but whose tender side was called into action in caring for his wife. Al is the son of Arnold and Lorraine Oeltjenbruns of Mountain Lake, additional cast members. Following their marriage, LaVonne and Al lived for a time in Mountain Lake, but now reside in North Mankato, Minnesota. They have been married for 38 years.
Cast in important supporting roles are the couples' children and grandchildren, including, two sons (Kevin of Madison, Wisconsin and Douglas and wife Chera of Mankato, Minnesota along with their two children, 13-year-old Natasha and Kamren, age six) and two daughters (Kimberly "Kim" and husband Ernie Dailey of Worthington, Minnesota and their six children, Taylor,15;  Angela, 5; Christian, 4; Hannah, 3; Kenzie, 2 and Jarett, seven months as well as Michelle and husband Wes Key of San Diego, California and are expecting their first child in March).
Additional support is provided by friends, other family members and classmates, a bevy of health professionals from emergency medical technicians to nurses  to helicopter pilots and paramedics to hospital support staff to physicians, including a noted neurosurgeon – as well as a capable and caring canine companion.
The final member of the cast is the brain aneurysm – playing itself as the villain. A brain aneurysm is a bulging, weak area in the wall of an artery that supplies blood to the brain. In most cases, a brain aneurysm causes no symptoms – and goes unnoticed. In rare cases – as in LaVonne's instance – the thinning and weakened area of the artery ruptures, hemorrhaging blood into the skull and  into the space around the brain, causing a stroke. The most common location for brain aneurysms is in the network of blood vessels at the base of the brain called the circle of Willis. Aneurysms can be connected to family history or hypertension, and occur more in women.
Along came July 23, 2011
A beautiful midsummer night around a campfire along the shores of Lake Shetek near Slayton, Minnesota was spent visiting, laughing and reflecting on life with classmates who had returned to the area for a class reunion is the setting for the bucolic opening scene. No one around the fire would have been able to predict the series of 10 events that would have to fall into place in order to save LaVonne's life.
1. Says LaVonne, "Usually I hit the bed around 9 p.m. or 10 p.m. However, this Friday night I was still sitting around the campfire with Al and old classmates at  11 p.m., enjoying a few drinks before the following day's class reunion. I don't drink often, but was drinking my third beer when I suddenly had a very sharp, stabbing pain in the lower right side of my brain."
She jumped up, thinking to herself that, "I really cannot handle alcohol," and then literally staggered to the couple's camper on the campground.
LaVonne can remember the giggling and snickering of the others as she tried to walk a straight line. Once inside the camper, she sat on the bed, stripped to the waist and passed out, falling forward onto the floor. (She does not remember this occurring; it was pieced together by others and explained to her later).
At this point, LaVonne notes that usually Al – who enjoys visiting with people, a lot – would have usually stayed up another two-to-three hours. But, for some reason that night – he went to join LaVonne in the camper in less than 15 minutes.
It was then he found his wife collapsed on the floor, unconscious.
2. Al quickly called out to one of LaVonne's girlfriends to come help. She was able to get her breathing again, while another friend called 9-1-1 for an ambulance.
Since they were camping on Lake Shetek during the height of the busy summer season, strategic plans have an ambulance available on site in order to respond immediately to any boating, swimming, fishing or ski jet accidents.
The ambulance arrived in less than five minutes.
3. LaVonne was transported about eight miles to the small-town hospital in Slayton, Minnesota, Murray County Medical Center.
During a triage review of LaVonne's injuries, emergency room doctors noted a bump on her head, which made them believe that she had hit her head in the fall. Amazingly, this rural hospital had access to an onsite MRI (magnetic resonance imaging) machine. An MRI machine uses a magnetic field and pulses of radio wave energy to make pictures of organs and structures inside the body.
The MRI revealed the brain aneurysm.
If LaVonne had fractured an arm or a leg in the fall, physicians would have initially focused on that fracture – and not on any head injuries.
4. The hospital in Slayton immediately contacted Sanford Medical Center in Sioux Falls, South Dakota to send a helicopter to transport LaVonne to that facility.
The hospital already had a helicopter on the ground in the area refueling.
It set down in Slayton in less than 15 minutes.
5. Al was unable to ride along in the helicopter, so he had to drive. He called the couple's daughter Kim, at home in Worthington, in the early morning hours of July 24, 2011 – at around  1 a.m.
Kim usually places her cell phone in its charger for the night – on the kitchen counter. This night, however, by whatever secret message or sensation she received, she had taken it along to bed with her.
Because of this, Kim was able to receive her father's phone call on the first try.
6. Kim and Al made the trip together from Worthington to Sioux Falls. It was a fortunate turn that Kim was able to be at the hospital to support her dad when physicians told him, "There is nothing we can do here for her."
At that point, the decision was made to tranfer LaVonne by medical transport to University of Minnesota Hospitals-Twin Cities.
Kim was able to drive her dad's pickup from Sioux Falls to Minneapolis, while Al traveled alongside LaVonne on the air ambulance.
7. The top neurosurgeon in Minnesota – Dr. Tummala – is on staff at U Hospitals. Doctors at Sioux Falls had contacted him at 2 a.m., ahead of the transport. Dr. Tummala was set to take flight on a two-week vacation at 7 a.m. that morning – just five short hours later. He received the message – and postponed his vacation to do the surgery.
8. In a bit of irony, LaVonne and Al, too, were set to leave for vacation in a couple of weeks. They were booked on their dream trip to Germany to see their daughter Michelle and son-in-law Wes, who was stationed with the United States Marines in that European country.
If LaVonne's brain aneurysm had occurred in flight over the Atlantic Ocean – or in Europe – there would have been even greater obstacles to her survival.
9. Instead, Michelle came home to be at her mother's side along with the rest of her siblings, all who were called by the doctor to LaVonne's bedside.
"Remember," LaVonne stresses, "I was still comatose; from the moment I collapsed by the lake." Family members were told that IF she regained consciousness she probably would not recognize them – and the odds were high that she could be in a vegetative state."
On the following Monday morning after her brain aneurysm and surgery, LaVonne was slowly awakened from a drug-induced coma. She opened her eyes – and saw her daughter Michelle, there all the way from Germany. Reflects LaVonne, "I knew that whatever had happened to cause me to be lying in a hospital bed – it must be bad – if Michelle was home."
During her time in her coma, LaVonne notes visions that are hard for her to describe. "I saw my deceased mother. And she was not the age she was when she died, 73-years-old – instead she looked to be about age 21. Somewhere within the recesses of my mind I knew at that point that it was important for me to fight hard if I wanted to live. But, at the same time, I remember feeling peaceful and calm."
LaVonne's family later shared with her that at one point she had murmured, "I am not afraid; I know where I am going."
10. In December 2011, LaVonne had some follow-up surgery. She was frightened of the procedure, which was kicked off by an MRI – this one taken when she was conscious. As LaVonne describes the experience by first laying out the facts of an MRI machine, "Those of you familiar with this procedure know that they put you in a very tight tube – and it is very noisy.
"During my one-half hour MRI, I prayed, 'God, please send me a sign that this will soon be over.' At that very moment, the technician told me over the headphones I was wearing, 'Only one more 10-minute test, LaVonne.'
"The machine went, 'Putt! Putt! Putt!' It reminded me so of my dad's old Farmall tractor trying to start up. The memory made me smile – and I thanked my angel dad for coming to me with a message that it was going to be all right."
If that wasn't enough to set LaVonne's heart and mind at ease, when she went into the operating room for surgery, the pair of nurses in the room introduced themselves. The first welcomed LaVonne with, "Hi. I will be your nurse today. My name is Michelle." Then the second nurse greeted her, "Hi. I will be your nurse today. My name is Kim."
The names of LaVonne and Al's two daughters.
Life as it is today
Out of 35,000 people each year who suffer a bleeding aneurysm such as LaVonne – 50% die. Of the 50% who survive, approximately 1/2 have permanent disabilities.
LaVonne does have a few disabilities on which she continues to work – but approaches each day with thankfulness for life.
To help with her recovery – and to have something to lean on when Al was not at home – the family adopted a rescue dog, Hydee. Hydee went through two six-week sessions of training, as well as one-on-one work with LaVonne in the home in preparation for her service as an assist dog. Hydee's main role was to help LaVonne relearn how to walk. In the beginning, Hydee helped her out of the bathtub or off the couch by allowing LaVonne to grab onto her collar. In addition, the dog has the uncanny ability to sense when LaVonne is sick (and doesn't even realize it herself). One example of this special sense is when LaVonne was developing meningitis after suffering an ear infection, and Hydee remained unmoved by her side.
LaVonne has learned to be resourceful as she finds her way back to a normal life. "When I walked with a walker, I had Al bring in the grandkids' coaster wagon into the house, which I used to pull around if I needed to carry things from Point A to Point B – like putting away the laundry.
Because she cannot bend over, for fear of risking too much blood flow to the brain which could result in fainting or a migraine headache, LaVonne has all of her clothing arranged on hangers – and not in drawers. She also has all of her upper kitchen cupboards and counter-tops stashed with needs, rather than in the lower cupboards. Chairs are placed by appliances where LaVonne spends extended time – such as the dryer or oven. Of high importance to her is an extended-arm E-Z grabber, used to reach and  pick up items from the floor.
Her short-term memory is poor, but is fortunate that her long-term memory remains intact, providing her with relaxing, reflective thoughts of times past.
LaVonne additionally suffers from fibromyalgia (a common syndrome in which a person has long-term body-wide pain and tenderness in the joint, muscles, tendons and other soft tissues) – but her can-do attitude (because she wants to be as independent as possible and not overly-dependent on Al) has led her to come up with some solutions to solve real-life situations. A lack of finger function led to the creative move of placing key chains on all of her jeans and slacks zippers, along with purse zippers and coat zippers. Difficulty reaching her arms up over her head meant that LaVonne had to revamp her entire wardrobe; no more T-shirts or anything she has to put on over her head. Buttons, too, are difficult for her to do, so she sticks with sleeveless tanks topped by unbuttoned blouses. She also placed magnets on her necklaces and bracelets and uses hook pierced earrings since she cannot place on the backs of other types of pierced earrings.
In good hands
There was one more coincidence or miracle LaVonne experienced; one that succinctly wrapped up the point as to "Why?" the timing and connection of the 10 previous happenings.
"Several ministers visited me during those three long weeks in intensive care that July . . . but I will always remember what one minister said to me, 'God carried you in the palm of His hands' (during that time in my life).
"So, that is my 'hand of God' miracle story.
"My wish for others is for them to believe in miracles, to be mindful of all of the miracles (no matter the size) that occur in their own lives – and to live each day to its fullest."
(LaVonne is willing to share her story of inspiration with women's groups, Bible study groups or any other small groups. Contact her at: Lavonneo2003@yahoo.com)